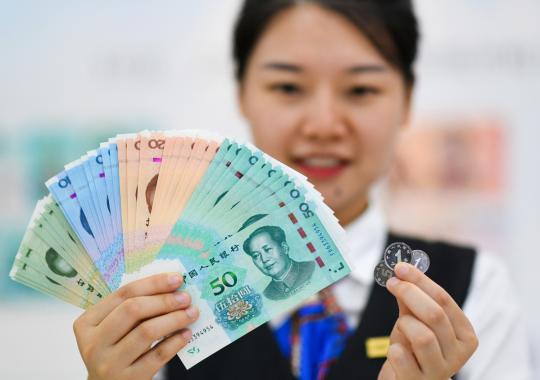 A woman shows banknotes and coins included in the 2019 edition of the fifth series of the renminbi. (Photo/Xinhua)
China's 2022 macro leverage ratio is expected to remain basically stable, said Liu Guoqiang, deputy governor of the People's Bank of China (PBOC), the country's central bank.
China made notable progress in stabilizing its leverage ratio and promoting growth last year, against the backdrop of scientific and effective COVID-19 prevention and control, Liu said at a press conference on Tuesday.
In 2021, the country's macro leverage ratio stood at 272.5 percent, 7.7 percentage points lower than the level recorded at the end of 2020, Liu said, adding that the macro leverage ratio has decreased for five consecutive quarters.
He attributed the falling macro leverage ratio to a stable overall debt level and accelerated gross domestic product (GDP) growth last year, as China's economy continued to recover and become more resilient.
The country's GDP expanded 8.1 percent year-on-year to 114.37 trillion yuan ($18 trillion) last year, the National Bureau of Statistics said on Monday.
The continuous decline in the macro leverage ratio creates room for future monetary policies and allows the financial system to increase support for small and micro businesses, technological innovation and green development.
China's economy is expected to continue to grow faster than major developed economies this year, which will create the conditions to better maintain the macro leverage ratio, Liu said.