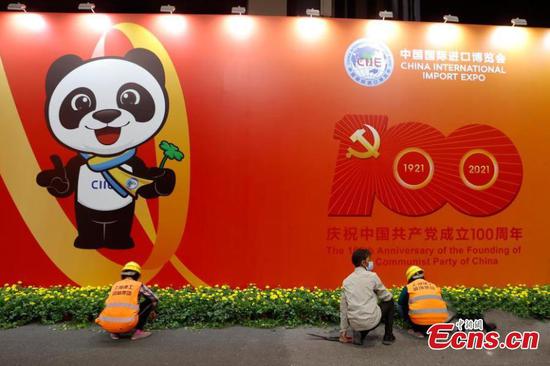 Staff members are busy making preparation work for the CIIE in Shanghai, Nov.2, 2021. (Photo: China News Service/Yin Liqin)
Photo taken on Oct 22, 2021, shows decorative installations near the National Exhibition and Convention Center (Shanghai), a main venue for the fourth China International Import Expo, in Shanghai. (Photo/Xinhua)
President Xi Jinping will deliver a keynote speech via video at the opening ceremony of the fourth China International Import Expo and the Hongqiao International Economic Forum, a Ministry of Commerce spokesman said on Wednesday.
The opening ceremony will be held in Shanghai on Friday, spokesman Gao Feng said.
With China introducing many opening-up measures to let global businesses play a bigger role in its lucrative market, multinational companies have been rushing to fill their booths with the latest product models and technology solutions at the fourth CIIE to be held in Shanghai, from Saturday to Nov 10.
Disrupted by the COVID-19 pandemic, the global economy has fallen into recession, encountered a countercurrent, and international trade and investment activities have shrunk sharply. As many cross-border cooperation projects have pressed the "pause button", the world needs to remove barriers and boost confidence in the field of business more than ever, said Chen Wenling, chief economist at the Beijing-based China Center for International Economic Exchanges.
The platform functions of the CIIE, including cross-border procurement, investment promotion, cultural exchanges and open cooperation, therefore have become more prominent amid the world's fight against the pandemic and the economic downturn, she said.
The fourth CIIE will include a business exhibition, a country exhibition, the Hongqiao International Economic Forum and a number of supporting activities and events, according to the CIIE Bureau, the event's organizer.
Most prominent will be the business exhibition, featuring six areas: food products, agricultural products, automobiles, intelligent industry and information technology, and trade in services.
Xiao Song, global executive vice-president of the German conglomerate Siemens AG, said that the CIIE is a grand event that promotes international exchanges, opening-up and cooperation. The German group said it was honored to be part of the event for four consecutive years, and to demonstrate its digital innovations in the China market.
"By participating in the CIIE, we will continue to deeply integrate into China's new growth pattern and co-create an innovative ecosystem that drives win-win cooperation with Chinese customers and partners, contributing to the high-quality and sustainable development of the Chinese economy and the global economic recovery, said Xiao, who also is chairman, president and CEO of Siemens China.
With China striving to achieve peak carbon emissions by 2030 and carbon neutrality by 2060, he said, Siemens will have a zero-carbon exhibition area at the CIIE for the first time.
Xiao's viewpoint was shared by Leon Wang, executive vice-president of AstraZeneca, who said that with pandemic prevention and control becoming a new norm worldwide, high-quality innovative cooperation at home and abroad has become ever more important. The CIIE is undoubtedly an incomparable platform for companies to carry out government-business communication, exchanges and cooperation, Wang said.
"All these efforts reflect Beijing's strong determination to open up to the outside world at a higher level and with the mindset as a responsible country in the world," said Wang, who also is president of AstraZeneca International and in China, adding that this year marks the fourth time the British biopharmaceutical company is participating in the CIIE. Its booth in the medical devices and healthcare products section will be 1,100 square meters.
In addition to creating a platform to convert exhibits into commercial goods and exhibitors into investors in the country, Liang Ming, director of the Chinese Academy of International Trade and Economic Cooperation's Institute of International Trade, said the CIIE offers sufficient supply chain links to businesses across the world, helping them connect with Chinese manufacturers and forming a supply chain.
"Due to international travel restrictions caused by the COVID-19 pandemic, we will be excited to have a virtual Ireland pavilion this year presenting Irish dairy products such as cheese and butter, and brands with Irish ingredients," said Ann Derwin, ambassador of Ireland to China.
Eager to boost bilateral trade volume, Ireland launched its national Grass Fed Standard in China in mid-October to help more local business partners and consumers better understand the quality of its dairy products.