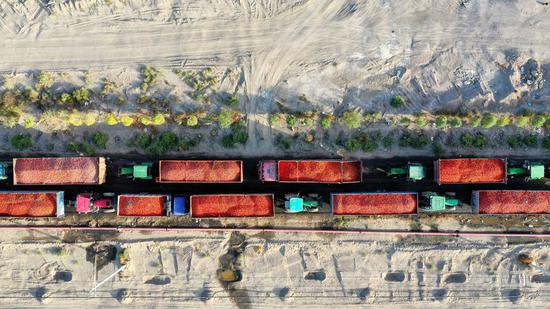 Aerial photo taken on Aug. 5, 2020 shows trucks carrying tomatoes waiting in line for sale outside a tomato processing plant in Bohu County, northwest China's Xinjiang Uygur Autonomous Region. (Photo by Nian Lei/Xinhua)
Special: Xinjiang
Six representatives from the tomato industry in northwest China's Xinjiang Uygur Autonomous Region on Wednesday told their stories of a booming tomato industry and a happy life via video link at a press conference, refuting the false claims of "forced labor" by Western anti-China forces.
Due to its unique natural conditions, Xinjiang's tomato planting and processing has become a featured local industry, with its tomato products having been sold to European, American, African and Central Asian countries and regions, according to Zhu Dagang, deputy head of Xinjiang's industry and information technology department.
All tomato production and processing enterprises in Xinjiang are legally registered and operating according to laws and regulations, said Zhu, adding that those enterprises fully guarantee the rights of employees, and there is no such thing as "forced labor".
Ma Hongkui, a tomato grower in the Hui Autonomous Prefecture of Changji, said their cooperative has cultivated a total of 200 hectares of tomatoes this year, and each member of the cooperative earned over 800,000 yuan (about 125,000 U.S. dollars).
"With the money I earned from growing tomatoes, I built a 180-square-meter house, decorated it as I liked, and lived a prosperous life," Memet Kaur, a tomato grower in the Mongolian Autonomous Prefecture of Bayingolin, said.
"Some western countries, led by the United States, imposed sanctions on Xinjiang tomato industry under the pretext of human rights. We firmly oppose this," Zhu said. "We will resolutely safeguard the safety of the tomato industry in Xinjiang and safeguard the legitimate rights and interests of our enterprises and workers."
Other representatives also agreed that the sanctions imposed by Western countries seriously violate international trade rules, damage the global industrial chain and supply chain, and infringe on the legitimate rights and interests of Xinjiang enterprises and workers.
They said the fundamental purpose of the sanctions imposed by Western countries is to curb the stable development of Xinjiang and deprive people of all ethnic groups of their rights to subsistence, employment and development by suppressing important industries in Xinjiang.