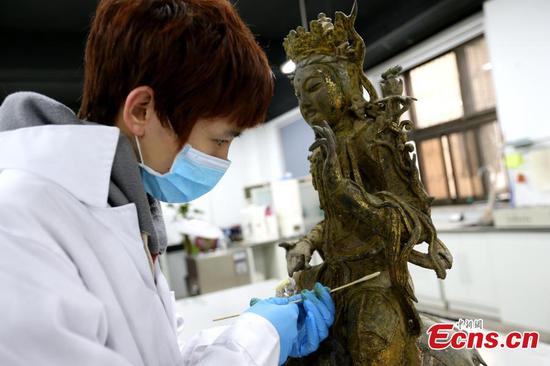 A specialist restores cultural relics at Shaanxi Provincial History Museum in Xi'an city, the capital of Northwest China's Shaanxi province. (Photo/China News Service)
China published its first State-level working skills standard for cultural relics restoration on Tuesday to normalize its management and boost its high-quality development.
The standard was released by the National Cultural Heritage Administration and the Ministry of Human Resources and Social Security.
It specifies 13 professions in relics restoration such as restoring murals, textiles, pottery and porcelain.
Gu Yucai, deputy director of the administration, said that the absence of a standard for evaluating relics restorers had caused a bottleneck in the development of the nation's cultural industry in recent years.
"Restoring relics is of great importance to protect and pass down the nation's traditional culture. The restorers, who are in close and direct contact with these rare and delicate relics, should have sound theoretical knowledge and practical experience. Their operation will have a direct effect on the safety of the relics," he said.
"For quite some time, it has been very difficult to evaluate a restorer's performance, and also hard to ensure the quality of cultural relics restoration for lack of such a national standard."
Apart from lacking a uniform management and evaluation standard, the sector also faces a labor shortfall and low pay.
According to a report by the former ministry of culture, which was merged into the Ministry of Culture and Tourism in 2018, China had preserved about 48.5 million cultural relics by 2017, with nearly 40 percent of them needing to be restored and 16 percent badly damaged.
Another survey by the ministry in 2015 showed that 92 percent of its administrative units said they faced labor shortages in restoring relics. It estimated at the time that the nation needed another 26,000 relics restorers.
Restorers, however, earn low pay even though they are in great demand.
A ministry survey done in 2015 showed that the average salary of a relics restorer was around 2,900 yuan ($450) a month, while figures from the National Bureau Statistics show the nation's average monthly salary was about 5,100 yuan back then.
Gu said at the news conference that the implementation of the new standard will help shape a scientific evaluation and management mechanism for restorers, and will be beneficial to their promotion and career prospects.
Peng Bingbing, the administration's deputy director of human resources, said there is still lots of work to be done, such as drafting training textbooks and building up a pool of testing material.
He said the administration will later implement ratings for restorers.
The administration said it will hold a two-day national working skills competition on restoring cultural relics in Qufu, Shandong province, from Friday.