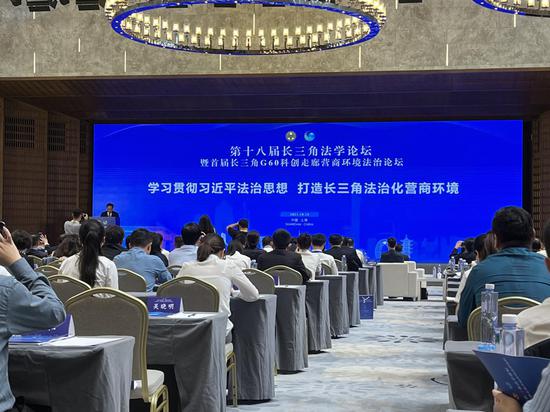 The 18th Yangtze River Delta Law Forum was held in Shanghai on Thursday. (Photo: China Daily/Huang Xinyi)
Courts across the nine member cities of the G60 Science and Innovation Corridor on Oct 14 initiated the first intercity judicial collaboration mechanism to provide unified legal protection for the high-quality integrated development of the Yangtze River Delta.
The mechanism, which involves the cities of Shanghai, Jiaxing, Hangzhou, Jinhua, Suzhou, Huzhou, Xuancheng, Wuhu and Hefei, was announced at the 18th Yangtze River Delta Law Forum held in Shanghai.
During the event, judicial authorities of the nine cities inked a proposal to jointly provide better legal protection for the business environment in the region.
"The forum shall play up its role as a research platform for this delta region, promoting the innovation and application of academic research results and better serving the national strategy to move forward," said Zhang Ming, vice-chairman of the China Law Society.
About 250 government officials, legal experts, researchers and law firm partners participated in the forum held by the law societies of the four provincial-level regions – Shanghai, Jiangsu, Zhejiang, and Anhui – involved in the delta region, as well as Shanghai's Songjiang district government, the East China University of Political Science and Law, and the Shanghai University of Political Science and Law.
Participants discussed concrete measures to improve the business environment, with some voicing their opposition of the "996" working schedule - it refers to working from 9am to 9pm, six days a week - and others advocating for greater tolerance toward first-time minor offences.
According to He Xiaoyong, a professor of international laws at the East China University of Political Science and Law, the business environment in China in the past year has been the most positive, with only 12 percent of surveyed respondents having a pessimistic view of the situation.
He also pointed out that the benefits of a good business environment should include people rather than be limited to market entities. Labor standards, he said, should be an important part of the business environment, and "996" should never be encouraged.