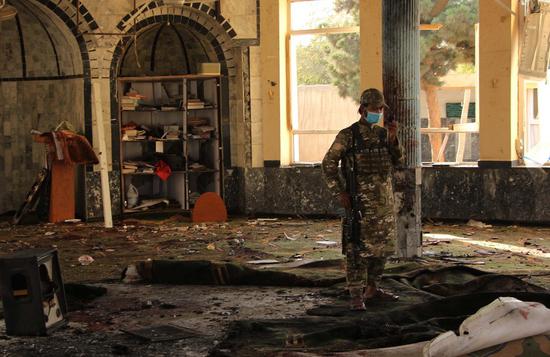 An Afghan Taliban member inspects the site of an explosion at a mosque in Kunduz city, northern Afghanistan, Oct. 8, 2021. (Photo by Ajmal Kakar/Xinhua)
The death toll from a suicide bomb explosion at a mosque in Afghanistan's northern Kunduz city has risen to 46 while 143 others were wounded, a provincial source confirmed on Friday.
The blast occurred inside a Shiite Muslim mosque building in the capital of Afghanistan's northern Kunduz province roughly at 2:00 p.m. local time when worshipers were offering Friday prayers.
"The number of the deaths may further rise as many of the wounded were in critical condition," Matiullah Rohani from provincial cultural and information directorate told Xinhua.
Unofficial sources said about 60 people lost their lives in the attack.
No group has claimed responsibility for the suicide bombing yet.
The security situation has remained generally calm but uncertain across Afghanistan since the Taliban's takeover in mid-August.
However, a spate of bomb attacks were launched by the Islamic State (IS) affiliated militants in the national capital of Kabul and Jalalabad city, the capital of eastern Nangarhar province in recent weeks.
On Sunday, eight people were killed and 20 others wounded in an explosion outside a mosque in Kabul, for which the IS militants claimed responsibility.