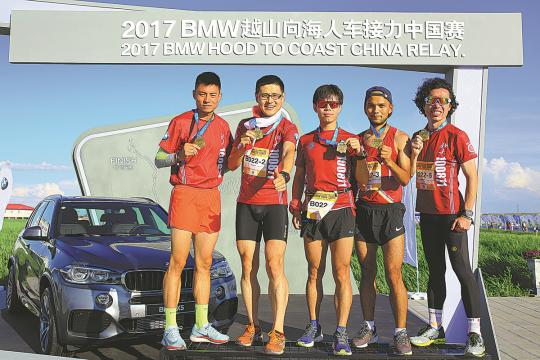 File photo from the previous four editions of the BMW Hood to Coast Relay in Zhangjiakou illustrate the team spirit, determination and fun that the annual event has become renowned for. (Photo/ China Daily)
The return of the BMW Hood to Coast Relay to the running calendar comes as a huge boost for endurance enthusiasts raring to push their limits.
The 145.6-kilometer test, which runners are challenged to finish within 24 hours, will start on Saturday at Senado Field in the grasslands of Zhangjiakou, the city in Hebei province that will co-host the 2022 Beijing Winter Olympics. The finish area is located in mountain terrain at Wanlong Paradise Resort.
This year's race marks the event's fifth anniversary in China since its debut in Zhangjiakou in 2017, when just 805 runners participated. A year later the field had grown to 1,280, with the relay becoming an annual treat for the nation's ever-growing legion of endurance enthusiasts. A second race has been staged in Hainan since 2019.
"Our relay welcomes all runners, and boasts the nation's top marathon and cross-country runners. Also we have running groups from many professions and universities. All running enthusiasts enjoy the feeling of running together with the professionals," said Li Lu, the general manager of event promoter Starz Sports Running Culture.
"The event has grown in influence and stature. Each year, runners from across the nation and even from abroad gather here in a celebration of our shared values-green living, fairness, charity, positive energy and teamwork."
Teams of five runners and one car take on the 24-hour challenge on a course that is divided into 16 sections. One team member is required to complete each section while the others travel by car and interchange at the end of every leg. The first 20 teams will start from midnight on Friday, with the remainder setting off at 20-minute intervals thereafter.
Despite being postponed in 2020 due to the COVID-19 pandemic, Hood to Coast's Zhangjiakou race attracted over 2,000 runners from over 400 teams in September last year. In December, the Hainan edition also welcomed over 2,000 participants, evidence of the growing popularity of an event which was founded in 1982 and takes place in the US state of Oregon every August.
"For the past four years, our relay has attracted over 10,000 runners from 155 cities of eight countries. A total of 1,750 running groups have joined in our relay," Li said.