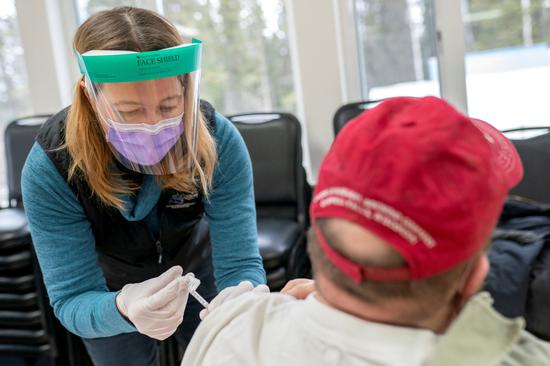 Nurse Practitioner Kim Sonderland administers a Moderna (COVID-19) vaccine to a tribal resident of Eagle, Alaska, U.S., March 31, 2021. (Photo/Agencies)
Special: Battle Against Novel Coronavirus
Thousands of people who have received a COVID-19 vaccine in the U.S. have become infected with the coronavirus afterward in what are being called "breakthrough cases".
The Centers for DU (CDC) reports that there have been 7,157 such cases in 45 states among the 87 million people who had been fully vaccinated as of April 20.
The CDC said that while "COVID-19 vaccines authorized for use in the United States offer protection against most SARS-CoV-2", some variants can cause breakthrough cases.
"Vaccine breakthrough cases are expected. COVID-19 vaccines are effective and are a critical tool to bring the pandemic under control," the agency said. "However, no vaccines are 100 percent effective at preventing illness. There will be a small percentage of people who are fully vaccinated who still get sick, are hospitalized or die from COVID-19."
CDC figures showed that 4,580 or 64 percent of the breakthrough cases were women, and 3,265 or 46 percent of breakthrough cases were in people age 60 or older. At least 2,078 or 31 percent had asymptomatic infections; 498 or 7 percent were hospitalized; and 88 or 1 percent died.
Ashley Allen, 31, of Brooklyn, New York, was surprised when she tested positive for the coronavirus three weeks after receiving the Johnson &Johnson vaccine on March 10.
Allen said that after getting vaccinated she continued to take precautions, such as wearing a mask and washing her hands. But she was "definitely very confused" when she tested positive, she said in a local television interview.
The CDC has created a database to monitor the breakthrough cases sent to them from state health departments nationwide. They identify clusters, demographics, geographic location, time since vaccination, vaccine type or lot number, and SARS-CoV-2 lineage.
Two of the vaccines — Pfizer and BioNTech's, and Moderna's — reported 95 percent efficacy. J&J's one-shot vaccine had 66 percent effectiveness in clinical trials, the CDC said.
None of the vaccines has reported 100 percent effectiveness. But the CDC said that the vaccines do offer protection three weeks after a person is inoculated.
Dr William Schaffner, professor of preventive medicine and infectious diseases at Vanderbilt University Medical Center in Nashville, Tennessee, told China Daily: "We don't know for how long even a pretty good vaccine will provide protection for how many."
A study from the University of California, San Francisco, that followed more than 30,000 healthcare workers showed an infection rate after vaccination of approximately 1 percent.
Gillian Plummer, an active mother of two from Middletown, Connecticut, who runs marathons, was happy when she got vaccinated.
But a month after she got the second dose of the Pfizer vaccine, she had what she thought was a sinus infection, but it turned out to be the coronavirus.
Despite her experience, Plummer is still an advocate for vaccinations. She believes that the vaccine probably saved her from getting even more sick.
"If it weren't for the vaccine, I think I would have been way sicker," Plummer said in an interview.
There are concerns that reports of breakthrough cases could be used by anti-vaccination campaigners as another reason why people shouldn't get vaccinated.
Jonathan Berman, a scientist, science educator and author of the book Anti-vaxxers, How to Challenge a Misinformed Movement, said most of the conspiracy theories springing up online and elsewhere about vaccines are fueled by fear.
"People are responding to some basic fears that almost everyone shares to a degree," Berman told China Daily. "People fear governments and corporations making decisions about their health. They fear putting things they view as 'unnatural' into their bodies. They fear living in a complex world that does not conform to intuitive answers that make sense to them."