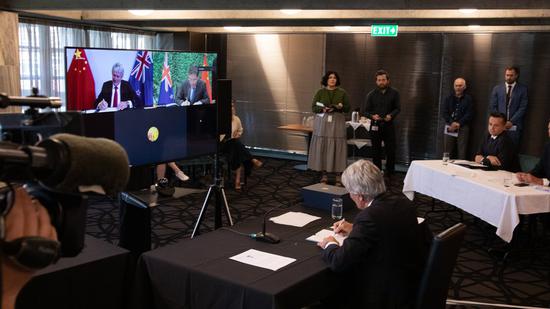 Photo taken in Wellington shows Chinese Minister of Commerce Wang Wentao and his New Zealand counterpart Damien O'Connor signing the FTA protocol via video link on Jan. 26, 2021. (Xinhua)
The New Zealand China Council welcomed the signing of the New Zealand-China free trade agreement (FTA) upgrade as positive news for New Zealand exporters amid the ongoing global uncertainty.
Chairman of the New Zealand China Council Don McKinnon said the upgraded agreement will contribute strongly to New Zealand's economic recovery from COVID-19 and highlighted the value of New Zealand's steady and constructive relationship with China.
"New Zealand exporters of services will enjoy new market access in sectors such as audio visual and environmental services, and many who are already exporting to China will receive expanded access to the market," he said.
"The elimination of tariffs on key wood and paper products will be a significant boost to our 3 billion New Zealand dollars' worth of trade in these exports, and is good news for the forestry industry which employs large numbers of people in the rural regions," said McKinnon.
More broadly, New Zealand exporters will benefit from reduced trade barriers including simplified customs procedures, greater transparency and less red tape to facilitate and improve the overall flow of trade in goods, according to the upgrade agreement.
"The upgraded agreement will ensure New Zealand remains agile and competitive in our largest and most important trading market. It reflects modern ways of doing business and places New Zealand on a strong footing in an increasingly competitive global trading environment," said McKinnon.
It is understood that the upgraded FTA will also create new opportunities for cooperation in e-commerce, the environment, competition policy and other areas and allow for greater dialogue between New Zealand and China on issues of mutual importance.
"The signing of the agreement upgrade demonstrates the commitment that New Zealand and China share to an open and rules based trading system, and delivers greater confidence and certainty for exporters as our economy continues to recover from COVID-19," said Don McKinnon.
Chinese Minister of Commerce Wang Wentao and his New Zealand counterpart Damien O'Connor signed the upgraded FTA protocol via video link on Tuesday.
In 2008, China signed an FTA with New Zealand, the first FTA between China and a developed country. The two sides announced the conclusion of their three-year negotiations on the upgrade in November 2019.