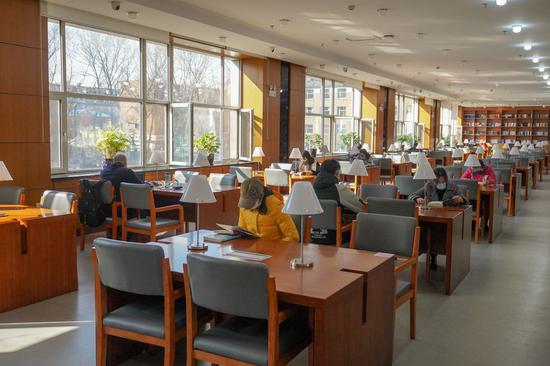 Citizens read books at the reading room of the Changchun Library in Changchun, Northeast China's Jilin province, March 11, 2020. (Photo/Xinhua)
Special: Battle Against Novel Coronavirus
The mainland reported no deaths caused by COVID-19 for the 30th day in a row on Thursday and the number of patients under treatment has dropped to less than 100, according to data update from the National Health Commission.
With another four locally infected cases reported from Jilin province over the course of Thursday, the case count of the disease has reached 82,933 on the mainland.
One more suspected case, an inbound arrival, was registered in Shanghai in the 24 hours ending Thursday midnight. Currently, the number of suspected cases on the Chinese mainland stands at four.
There are now only 91 patients in hospitals, a daily drop of 14.
Among the 1,692 imported cases, 1,646 have been released from hospitals as of Thursday midnight. There were no fatalities.
Two more people were sent into intensive care on Thursday, bringing up the number of such patients to 11.
Two of the 11 additional asymptomatic cases registered over the course of Thursday are inbound arrivals. But 35 of the total 619 such cases still under medical observation are imported ones.
Of the 738,691 people that have been traced as close contacts with the infected, 5,211 are still under medical observation, it added.
The Hong Kong and Macao Special Administrative Regions and Taiwan province have reported a total of 1,536 confirmed cases, including four deaths in Hong Kong and seven deaths in Taiwan, the commission noted.
Meanwhile, 1,435 recovered patients in these regions have been discharged from hospitals.