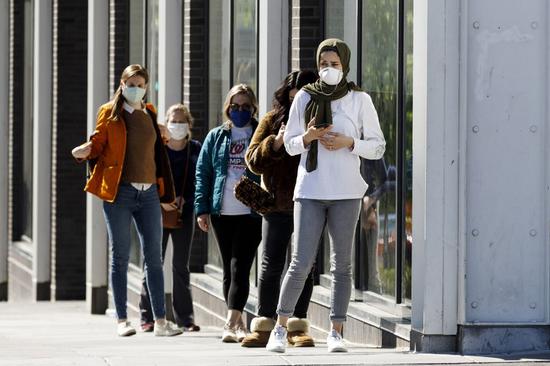 People wait outside a grocery store in Washington D.C., the United States on May 10, 2020. (Photo by Ting Shen/Xinhua)
Special: Battle Against Novel Coronavirus
Latest studies showed that deep social inequities in the United States have rendered the COVID-19 pandemic a greater risk for the ethnic minorities.
"The mortality rate of COVID-19 in vulnerable ethnic minorities is particularly high in the U.S., which reflects deep social injustice. The whole of society should be aware of it and pay more attention," said Florence Fang, co-founder of the newly-established, non-profit Global Alliance to Combat COVID-19 (GACC), at a webinar on Monday.
"We have to fight against discrimination and inequity amid pandemic, otherwise, the minorities will continue to suffer," said Fang, also a Chinese American community leader.
"The most vulnerable people, at least in my country ... are the people at the bottom of the socioeconomic ladder, " said Barry Bloom, former dean of Harvard T. H. Chan School of Public Health at a Sino-U.S. webinar organized by Fang, focusing on the pandemic's impacts.
Bloom said the poorest people who live in the most crowded housing have the fewest resources. And "we see those dying in two and three times a greater rate than those that are more affluent and within better conditions. "
"I hope this epidemic will renew a commitment to decrease societal inequities and make it a fair and equitable society," he noted.
According to a recent research by the University of California, Berkeley (UC Berkley), black Americans are bearing the brunt of the health and economic impact of the coronavirus pandemic, especially in urban areas due to the underlying structural inequality.
Tina Sacks, an assistant professor at UC Berkley argued that black people have experienced decades of residential racial segregation, which means that black neighborhoods typically have fewer institutional anchors, such as grocery stores, good schools, and safe places. The research also shows that black people are more likely to be uninsured.
"Lastly, black people are concentrated in parts of the labor market where workers cannot stay home to shelter in place, which ... ultimately increases their risk of acquiring COVID," Sacks said.
Another contributor to the disparity is the trauma and stress caused by police violence in those communities, according to a panel of UC Berkeley experts.
"Everyday racism continues to be a more immediate concern to communities of color than a pandemic, so some people may decline to wear masks," said Osagie Obasogie, a Berkeley professor of bioethics.
"The causes are so deeply embedded in the social system and in social policy, the solutions also need to be rooted there, but that will take a lot of time and political will," Sacks said.
A further study also shows minorities in the state of California are facing more health and economic risks in the COVID-19 pandemic, with less freedom to work from home and more anxiety over financial difficulties.
The study was based on the latest poll by the Institute of Governmental Studies (IGS) of UC Berkeley in conjunction with the California Institute of Health Equity and Access, which surveyed 8,800 voters statewide online.
According to the poll, 61.3 percent of the white people in California said they could work from home, nearly 20 points more than those reported by Latino respondents. Among black Californians, 53.3 percent said they are able to work at home.
As the infection risk is compounded by the degree of exposure to other people, among white Californians, 26.5 percent said that they face a somewhat serious or very serious problem, while 56.7 percent of Latino voters expressed similar worries, followed by 43.8 percent of blacks and 44.4 percent of Asian Americans, according to the research.
"The stark racial differences in which populations can safely work from home are striking," said IGS Co-Director Cristina Mora. "Latinos and blacks, and their families, simply face more contact and more risk than whites."
The IGS report suggests that health insecurity is almost inseparable from economic security. A total of 60 percent of Latino and 54 percent of Black Californians report that COVID-19 is a "major threat" to their personal or family financial situation, compared with 45 percent of Asian Americans and 37 percent of white Californians. Enditem