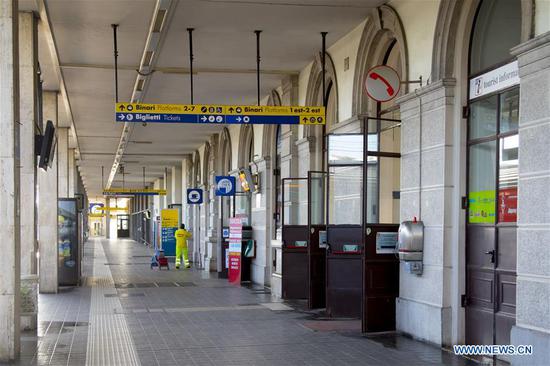 Photo taken on March 8, 2020 shows the empty Rimini railway station in Rimini, Italy. Italy has locked down the northern Lombardy region and 14 nearby provinces, including the financial capital Milan and tourist hotspot Venice, in an effort to contain the spread of the novel coronavirus, Prime Minister Giuseppe Conte said Sunday. (Photo by Elisa Lingria/Xinhua)
Special: Battle Against Novel Coronavirus
A total of 6,387 people have tested positive for the coronavirus in Italy since the epidemic first broke out here over two weeks ago, the Civil Protection Department said Sunday.
In addition, 366 people have died and 622 recovered, Civil Protection Department Chief Angelo Borrelli told reporters at a televised press conference.
This was up from 5,061 cases, 589 recoveries and 233 deaths announced in an official tally on Saturday evening.
Most of Sunday's fatalities occurred in Lombardy (113), followed by the regions of Emilia-Romagna (eight), Veneto (five), Lazio (two), Liguria (two), Friuli Venezia Giulia (one), Marche (one), and Puglia (one), said Borrelli.
Borrelli also broke down the Sunday death tally by age ranges: one fatality occurred in the 0-49 age group, one in the 50-59 age group, 14 in the 60-69 age group, 39 in the 70-79 age group, 60 among people aged 80-89, and 18 deaths occurred among those aged over 90.
Of those who tested positive, 2,180 people are under home isolation, 3,557 are hospitalized with symptoms, and 650 are in intensive care, said Borrelli, who also serves as extraordinary commissioner for the coronavirus emergency.
The spike in infections and fatalities comes after Prime Minister Giuseppe Conte said early on Sunday that effective immediately, the government is locking down the entire northern Lombardy region as well as several provinces in the nearby regions of Emilia-Romagna, Piedmont and Veneto in an effort to contain the spread of the virus.
According to the government decree that goes into effect until April 3, unprecedented restrictions will be taken as preventive measures, impacting some 16 million people in the north, which accounts for over one-six of the country's population.
Also on Sunday, the Health Ministry said in a statement that Health Minister Roberto Speranza has spoken on the phone with World Health Organization (WHO) Europe Regional Director Hans Kluge to illustrate the government's new restrictive measures.
In a tweet, Kluge expressed full support for the measures taken by Italy.
"Italy has taken a brave decision to contain &mitigate the risk of COVID-19 for its population. WHO fully supports the commitment of the government at state ®ions, the people of Italy, all doctors, nurses &health staff at the frontline. United with Italy," Kluge wrote.
The WHO, which is the health agency of the United Nations, had sent a Rapid Response Team (RRT) on a 12-day mission to Italy which ended on March 6.
Its recommendations included "maintaining a strong focus on containment measures across the country, and prioritizing the identification and testing of suspect cases. In areas with wider virus transmission, they recommend a combination of strategies that prioritizes patient isolation and care and hospital preparedness to prevent disease and protect lives," the WHO said in a statement.
"We acknowledge the efforts of the (Italian) Ministry of Health as well as other national and regional authorities ... and we are grateful for the transparent information-sharing that is critical for us to better understand this outbreak and support response efforts," said WHO RRT Leader Dina Pfeifer.
Michele Emiliano, governor of the southern Puglia region in the heel of Italy's boot, wrote on Facebook early on Sunday that he has signed an order mandating a 14-day quarantine period for "those who arrive in Puglia from Lombardy and the (14) northern provinces (under lockdown)."
His message followed media reports that hundreds of people flocked to northern train stations in a bid to get home to other regions before the government lockdown went into effect.
Many residents of Italy's impoverished southern regions move to the wealthier northern regions in order to study and find jobs.
"I speak to you as if you were my children, brothers, grandchildren: stop and go back," Emiliano wrote.
"Do not bring the epidemic ... into your land, Puglia, by running away (from the northern regions placed under lockdown) to avoid the government's decree," the governor pleaded.
"This exodus does not help you and is harmful to your loved ones who await you in Puglia," Emiliano wrote.
Also on Sunday, Italian President Sergio Mattarella said in a speech to the nation that "for reasons we all know, this year we will not be able to celebrate International Women's Day at the Quirinal (presidential palace in Rome)."
"First of all I wish to express gratitude to the many women who are hard at work in hospitals, laboratories, and red zones (quarantine areas) to fight the spread of the virus," Mattarella said.
"They work in difficult conditions, with skill and a spirit of sacrifice, with dedication," Mattarella said.
In related news on Sunday, Italian news agency ANSA reported that prisoners have protested in penitentiaries in the cities of Frosinone, Modena and Salerno over new restrictions imposed in order to stem the spread of the virus. Enditem