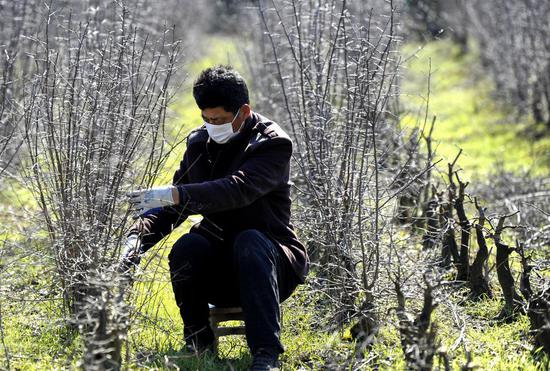 A villager works in the field in Tongling City, east China's Anhui Province, Feb. 18, 2020. (Photo by Guo Shining/Xinhua)
Special: Battle Against Novel Coronavirus
Chinese farmers, cautiously and actively, begin spring farming in hopes of a bumper harvest amid the ongoing fight against the coronavirus outbreak.
Spring is the golden time for farming in most parts of China, which needs to feed a huge population of some 1.4 billion. The ongoing coronavirus epidemic this year, however, has made it more pressing to ensure a good grain supply.
Cai Jianlian is tending tomato plants in a greenhouse in Fucheng Township, southern China's Guangxi Zhuang Autonomous Region.
"Each day before work, I take my temperature and get dressed as required," said the 56-year-old woman. "And we also keep a certain distance between each other."
"We've ordered villagers to take turns and necessary precautions when working in the fields," said Luo Weiqiang, head of Fucheng Township.
In east China's Anhui province, farmers are also running on a tight schedule to tend the land.
Nie Hongwei, 39, planted 87 hectares of wheat this year."The crops are growing well. I must manure the land in time after I finish weeding. No delay is allowed in farming, even amid the epidemic," said Nie, in Anhui's Dayang Township.
In an earlier circular, the Ministry of Agriculture and Rural Affairs of China stressed support for agricultural manufacturers to resume production as soon as possible to increase market supply and ensure the needs of spring plowing.
As of Feb. 10, 94.6 percent of the country's major grain production and processing firms had resumed production.
"We have prepared 3 million kg of seed rice for this year's spring plowing," said Wang Genhuo, head of a seed company in Nanling County. "The reserves can not only ensure the supply of the local markets but also meet the need of other cities in the province."
Technology has also been applied in farmwork amid the epidemic. Yang Zhengguang, a ginger grower in Shandong, punches in every day via an app to ensure that he only works within a certain range to avoid cross-infection.
The purchase of fertilizers, machines and seeds can all be done online and delivered to their doorstep.
Dong Jinfeng, head of an agricultural service company, said the company now offers "non-contact farming" services, allowing farmers to order services or products on the company's website.
Agricultural experts also go online to instruct local farmers to take care of their land. "We can receive detailed instructions through a WeChat group every day," said Wang Cuifen, a farmer in Shandong's city of Gaomi.
Financial support is also ready for those in need. China's rural policy bank has strengthened its financial support for spring farming to alleviate the impact of a coronavirus epidemic.
As of Feb. 10, a total of 12 billion yuan (about 1.72 billion U.S. dollars) of loans had been issued by the Agricultural Development Bank of China to ensure the sufficient supply of agricultural materials and smooth transportation.