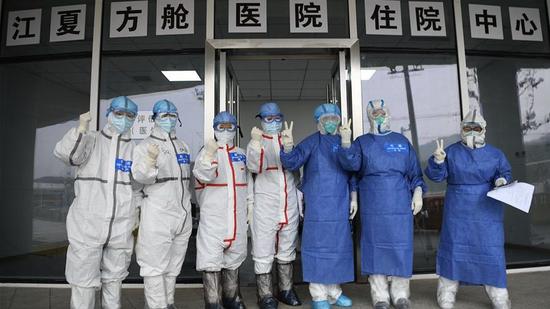 Medical workers pose for a group photo at Jiangxia temporary hospital in Wuhan, capital city of Central China's Hubei province, Feb 14, 2020. [Photo/Xinhua]
Special: Battle Against Novel Coronavirus
Experts are encouraging more patients who have recovered from the novel coronavirus to donate their plasma to save those in critical condition.
"We still have around 10,000 cases of seriously ill patients, they are constantly on our mind and are of upmost priority," Sun Yanrong, deputy director of the China National Center for Biotechnology Development, said in a news briefing on Monday.
Sun said doctors still need effective clinical methods to reduce the fatality rate of these critically ill patients. Plasma transfusion is an ancient technique, it has been used in the last few decades as a last resort against infectious diseases, such as SARS and Ebola.
Plasma is the liquid part of the body's blood, which contains important proteins crucial to one's overall health as well as many kinds of antibodies, some of which are effective against the coronavirus. But researchers must select the most effective antibodies from plasma donated by recovered patients, and administer plasma based on compatibility with the infected patient's blood type.
As a result, Chinese scientists have been working hard to modify and improve their techniques to handle this viral outbreak. They collected the first convalescent plasma on Feb 1, and the first patient received plasma treatment on Feb 9 at the Jiangxia First People's Hospital in Wuhan.
Ten more critical patients also received plasma treatment in the following week. As of today, one patient has already recovered and was discharged from the hospital, and one patient could now leave their bed and walk, and the rest of the patients are steadily recovering, Sun said.
Scientists will continue researching the potency and safety of the plasma treatment, she said. "Current results show plasma transfusion is a safe and effective treatment for critically ill patients, but this method requires support from the whole society," she said.
The Ministry of Science and Technology and National Health Commission will work together to promote this treatment. "I would like to thank the first recovered patient who donated 300 milliliters of her plasma, as well as all the patients who followed," she said.
"Their contribution has provided us with an effective tool against the virus, and gave hope to critically ill patients who are struggling for their lives," Sun said. "We would like to urge the public to donate their plasma to help those in need. With the whole society working together, we can surely overcome the epidemic."
Guo Yanhong, a medical expert from the National Health Commission, said there are strict quality regulations governing the collecting, processing, storage and administration of convalescent plasma for clinical use.
Guo urged provincial governments to establish dedicated medical teams to follow these rules and ensure the quality and safety of plasma transfusion treatments. "We have to protect the safety of donors and patients," she said.