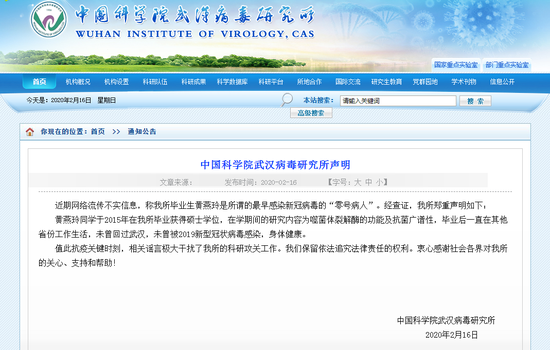 The announcement by Wuhan Institute of Virology of the Chinese Academy of Science on its website on February 16, 2020. /CGTN Screenshot
Special: Battle Against Novel Coronavirus
The Wuhan Institute of Virology in central China on Sunday denied rumors claiming that the first person to contract novel coronavirus pneumonia (COVID-19), or patient zero, came from the institute, according to a statement on its official website.
The statement came after claims circulated on the Chinese internet saying Huang Yanling, a research fellow graduating from the institute, was patient zero of the novel coronavirus.
"Huang graduated from the institute in 2015 with a master's degree, majoring in the function of phage lyase and the broad-spectrum antibacterial," the statement read. "She has since then been working in other provinces and has never been back to Wuhan. She's not infected by the novel coronavirus and is in good health."
It also noted that at this critical moment in the fight against the epidemic, such rumors have greatly interfered with their scientific research work, and the institute reserves the right to file a lawsuit against it.