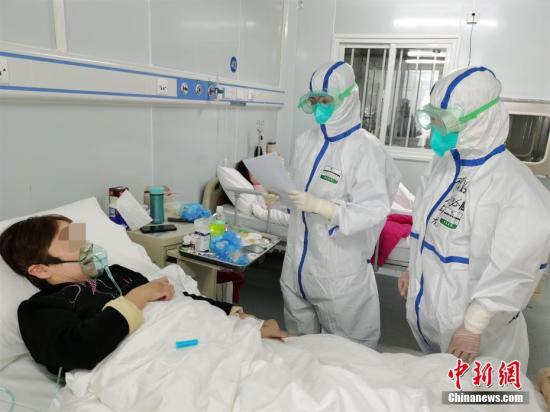 Medical staff visit a patient with confirmed novel coronavirus (COVID-19) infection. (China News Service)
Special: Battle Against Novel Coronavirus
China's health authority said Thursday that it received reports of 15,152 new confirmed cases of novel coronavirus (COVID-19) infection and 254 deaths Wednesday from 31 provincial-level regions and the Xinjiang Production and Construction Corps.
The confirmed cases included 13,332 clinically diagnosed cases in Hubei Province, according to Mi Feng, a spokesperson with the National Health Commission (NHC).
In line with the latest version of the diagnosis and treatment scheme released by the NHC, suspected cases in Hubei with pneumonia-related computerized tomography (CT) scan results are identified as clinically diagnosed cases, said Mi, explaining why the confirmed COVID-19 cases soared on Wednesday.
The diagnosis criteria revision, which only applies to Hubei, was made to give clinically diagnosed patients in the province timely and standard treatment to further improve the recovery rate, according to the NHC.
Among the deaths, 242 were in Hubei, said Mi, adding that the other deaths included two in Henan, and one in Tianjin, Hebei, Liaoning, Heilongjiang, Anhui, Shandong, Guangdong, Guangxi, Hainan, and the Xinjiang Production and Construction Corps, respectively.
Another 2,807 new suspected cases were reported Wednesday, said the commission.
Also on Wednesday, seriously ill patients decreased by 174, while 1,171 people were discharged from hospitals after recovery.
There were 52,526 confirmed cases on the Chinese mainland at the end of Wednesday, and 1,367 people had died of the disease by the end of the day.
The commission added that 8,030 patients remained in severe condition, and 13,435 people were suspected of being infected with the virus.
A total of 5,911 people had been discharged from hospitals after recovery.
The commission said 471,531 close contacts had been traced, adding that among them, 29,429 were discharged from medical observation Wednesday, with 181,386 others still under medical observation.
By the end of Wednesday, 50 confirmed cases had been reported in the Hong Kong Special Administrative Region (SAR), 10 confirmed cases in the Macao SAR and 18 in Taiwan.