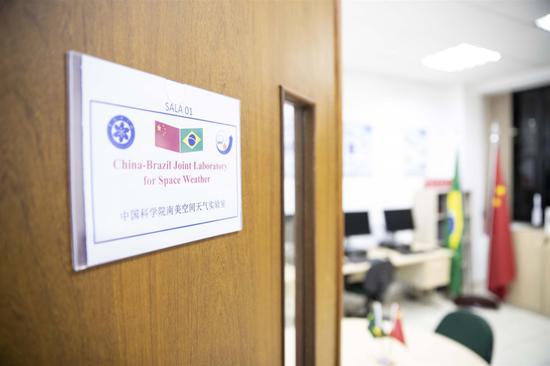 China-Brazil Joint Laboratory for Space Weather at Sao Jose dos Campos in Brazil. (LI MING / XINHUA)
Special: Xi visits Greece, attends BRICS summit in Brazil
China and Brazil will continue collaborating on space weather research to achieve a deeper understanding of the sun's effects on the space environment surrounding Earth and improve the forecasting of violent solar activities that could harm people and infrastructure, a leading Chinese scientist said.
This year marks the 45th anniversary of the establishment of diplomatic relations between China and Brazil and the 5th anniversary of the China-Brazil Joint Laboratory for Space Weather, in Sao Jose dos Campos, Brazil, which was jointly established by the Chinese Academy of Sciences and Brazil's National Institute for Space Research.
Wang Chi, director of the lab and the director-general of the National Space Science Center, CAS, said the lab has played a major role in unlocking the physical processes behind hazardous space weather events and also served as a bridge for Sino-Brazilian exchanges in space science.
Space weather is a relatively new field that examines the impact of the massive amount of electromagnetic radiation and energetic particles emitted by the sun on the Earth's geomagnetic field and outer atmosphere, Wang said.
Although most of the interactions occur around 30 kilometers above ground, the sun's solar flares and magnetic storms can produce many noticeable effects on Earth, including auroras. They can also disrupt communication and power grids and cause radiation damage to astronauts, people in airplanes and devices in space.
"Violent solar activities can lead to disastrous space conditions and massive losses," Wang said. "As a result, studying space weather has great scientific and practical significance in reducing or mitigating the impact of hazardous space weather as humanity ventures deeper into the universe."
Forecasting space weather is a notoriously difficult task. The European Space Agency and the United States' National Aeronautics and Space Administration have built many instruments over the decades, from ground-based observatories to satellites, to collect data on solar activity.
On Oct 10, NASA launched its Ionospheric Connection Explorer satellite, also known as ICON, to study how solar wind and other space weather phenomena interact with the ionosphere, a layer of Earth's upper atmosphere that begins around 100 km from the planet's surface.
China and Brazil began cooperating in space weather research in 2010. Wang said the two countries are geographically well suited to tackling the subject together because China is located at around 120 degrees east longitude and Brazil is at 60 degrees west, meaning the two regions can complement each other in collecting data.
The joint laboratory has installed advanced space monitoring equipment including a laser radar, ionospheric meter and a magnetometer that have collected more than 1.5 terabytes of space weather data.
Wang said the lab and its data contribute to the International Space Weather Meridian Circle Program, a global science project launched by China in 2008. It is aimed at connecting ground-based observatories along the 120 E and 60 W meridian chains and enhancing the monitoring of the space environment.
Through such cooperation, China and Brazil have also trained 16 postdoctoral fellows and jointly published 24 papers in noted journals such as the Journal of Geophysical Research.
"The lab's success has greatly improved the space weather research and forecast capabilities for both countries," Wang said.
As space weather collaboration between China and Brazil nears its 10th anniversary, both countries are eyeing further cooperation in space technologies, ranging from space weather research to building new survey satellites to collect remote sensing data for urban planning and resource management.