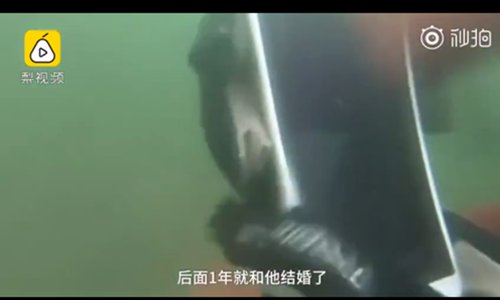 The rescue team found cell phones spending three years in a river, which can still work. (Photo/screenshot of the video of Pear Video)
A rescue team on a scuba diving training exercise found two cell phones that were in a plastic bag in a river in Southwest China and were still in working order.
Zhai Ke, leader of the Blue Sky rescue team in Guiyang, Guizhou Province, told Pear Video that he found two cell phones at the bottom of the river on July 29.
"I saw two phones that had been put into waterproof bags in the sand, so I took them out of the water," Zhai said.
He cleaned the phones and took them to his home. "I put them on a sponge to absorb water in the phones and then charged them." To his surprise, the phones turned on and could still work.
Zhai guessed the two phones belonged to a couple and their passwords were 1314, which sounds like the Chinese words meaning together forever, a popular phrase among couples.
After checking contact list on the phones, Zhai was able to reach the owners of the phones and found they were married.
The wife told Zhai that their phones accidentally fell in the river while they were on a boat cruise in August 2016 and never expected the phones would be returned.
"TV dramas do not dare make a story like this," the wife said. "We will not use the old phones but consider them as a beautiful memory and preserve them."