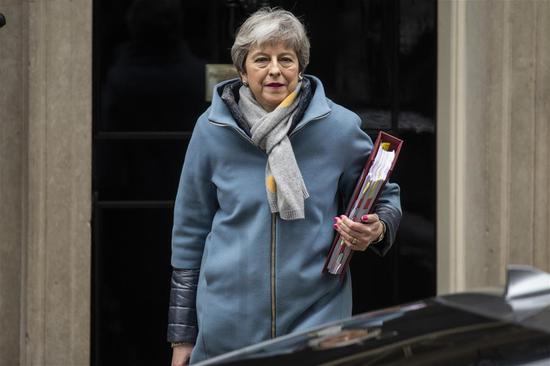 British Prime Minister Theresa May leaves 10 Downing Street for the Prime Minister's Questions in the House of Commons in London, Britain, March 20, 2019. (Xinhua/Ray Tang)
Prime Minister Theresa May confirmed Wednesday she has written to the European Union seeking to delay Britain's departure from the bloc until June 30.
May announced during her weekly Prime Minister's Question Time that she had made the request in a letter Wednesday morning to Donald Tusk, President of the EU Council.
May told MPs in the House of Commons that if the extension is agreed she plans to put her Brexit deal to MPs for a third vote.
Describing her request as a short extension, May said she did not believe a longer extension would be in anyone's interest as it would mean Britain having to take part in EU elections this year.
If the House of Commons rejects her deal it will be up to MPs to decide how to proceed.
"I'm not prepared to delay Brexit any further than June 30," she said.
People in Britain voted in 2016 to leave the EU, with a departure date set for March 29.
May will travel to Brussels Thursday to meet EU member state leaders. Any delay to Brexit will need approval from all 27 EU member states.
Opposition politicians in the House of Commons, including Jeremy Corbyn, leader of the main opposition Labour Party, accused May of plunging the country into a crisis.
May states in her letter to Tusk that a decision by the Speaker of the House of Commons, John Bercow, had made it impossible for her to call a further vote on her Brexit deal ahead of Thursday's European Council meeting.
Bercow rules she could not ask MPs to vote again on a same motion to the House of Commons.
May said in the letter that it was her intention to bring the deal back to the House of Commons. She has asked the European Council to approve supplementary documents agreed in Strasbourg to enable her to have a third vote on her deal.
May added that she is confident the British Parliament will proceed to ratify her deal constructively, but it will not be completed before the March 29 departure date. She asked for an extension until June 30 to take the necessary bill through the Houses of Parliament.
The letter ended speculation that May might seek to extend the departure beyond June 30 if MPs reject her deal a third time.