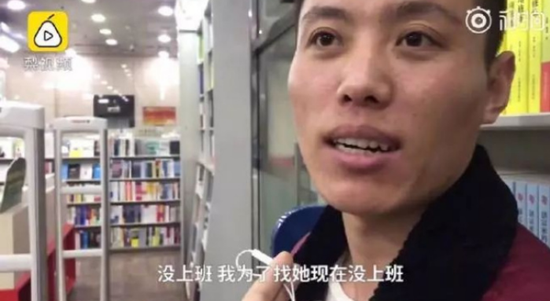 Sun says he has quit his job in the searching for the woman. (Photo: Screenshot via Wechat)
A Chinese man surnamed Sun triggered backlash online after he launched an extensive search to track down a woman he had a crush on, after he lost sight of her at a bookstore in Beijing on September 24, according to Chinese video news site Pear Video.
Sun describes the female as wearing "nude stockings" and a yellow hoodie at the bookstore. /Screenshot via WeChat
In hopes for her appearance, Sun reportedly filed a petition at a local court on Monday to sue the unidentified female for leaving him "emotionally distressed," but the court rejected his plea, and told him to drop the petition.
He reportedly has quit his job and waited in the bookstore for about 50 days from 11 a.m. to 7 p.m.
Sun said he'll figure out other ways to find the woman if the usual way isn't working, according to Pear Video.
Before going to the court, he reportedly had posted sketches of the woman on the subway stations and nearby local college campuses.
Sun posted sketches of the woman he drew at on subway stations and nearby local college campuses to search her.(Photo: Screenshot via Wechat)
The story quickly garnered attention on social media this week and stirred unease among netizens.
On Weibo, China's equivalent of Twitter, a post has gathered over 67,000 likes and nearly 64.000 shares, with the hashtag of "man attempts to sue the person he's looking for," which has been viewed by 270 million people.
It has sparked debate on stalking behavior, as many users think there's hardly anything romantic about the story.
Netizens flooded to the comment section accusing the guy of harassment and expressed concerns for the girl if her identity was ever found.
Currently, no law in China stipulates against stalking practice so as to protect people from harassment. A 2017 study conducted by scholars from the City University of Hong Kong and Curtin University in Western Australia is reported to be the first study in Hong Kong on stacking practice.
Moreover, making stalking a criminal offense faces challenges in the courthouse.
"It's hard to collect legal proof of ulterior motives in stalking activities especially if didn't cause physical harm," China's Supreme People's Procuratorate reported citing legal experts.