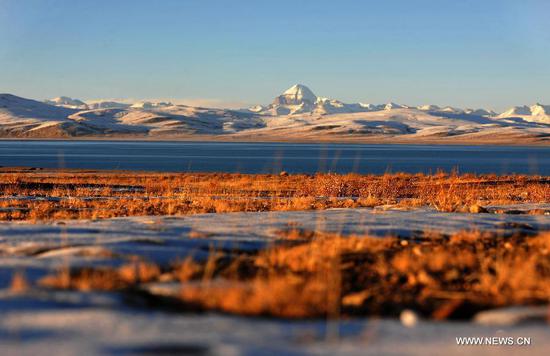 Photo taken on Oct 23, 2014 shows the beautiful scenery of Mount Kailash in Ngari prefecture of southwest China's Tibet Autonomous Region. (Xinhua photo)
Every year, thousands of Indians and Nepalese make pilgrimages to Mount Kailash, in the Tibet autonomous region. The site is sacred in several religions, which spells goods news for the local villagers offering logistics and guide services.
Gangsa village in Burang county is located at the foot of the mountain, at an elevation of 6,656 meters. A group of 88 nomadic families teamed up here in 1996 to start a business transporting people and goods on yaks.
That business was upgraded with government support in 2010 to become a logistics and tourism service center, providing transportation, accommodation and food services to pilgrims as well as tourists from all over the world.
Today, the center has 2,210 yaks and 1,105 horses, and every household in the village is engaged in the business. Many people also operate restaurants and tent homestays along the trail.
"The nomads provide transportation and guide services to foreign pilgrims," said Yeshi Tshutrim, a local cadre. "The locals consider it a glorious job, as every trip they get to walk around the mountain, making their own pilgrimage.
"Before setting up the center, the people in Gangsa traditionally were herders. Since getting involved in the transportation business, their living conditions have been improving rapidly."
By 2017, the per capita annual income in the village had reached 12,000 yuan ($1,750) and more than 220 people had been lifted out of poverty, according to official data.
Mount Kailash is regarded a sacred in Tibetan Buddhism, Hinduism, Jainism and the Tibetan Bon religion. Tseten Lhamo, 25, who has provided logistics services by horse to visitors for more than 10 years, said she is happy with the work.
"It takes three days to finish a full tour around Mount Kailash. We charge 1,600 yuan for one horse, and the client can ride the horse during the trip," she said, adding that her family of five has three horses.
The pilgrimage season runs for about six months, and Tseten Lhamo said she can make more than 10 trips a month. Business tends to dry up in the colder months.
Gangkar Dawa, 30, said he made 150,000 yuan from running trips last year. "Our clients are mostly Indian pilgrims," he said. "I've been working with horses for three years, and every year I make at least 50 to 60 trips."
He said he enjoys leading tours, as every trip around the mountain brings him prosperity, according to his religion. "Not only do I get to see the sacred mountain, I'm also making money," he added.
As the language barrier can be an issue working with foreign pilgrims and tourists, the local government provides an annual workshop teaching English and Mandarin.
Teams are also regularly organized to scour the trails for trash, to ensure the environment stays clean.