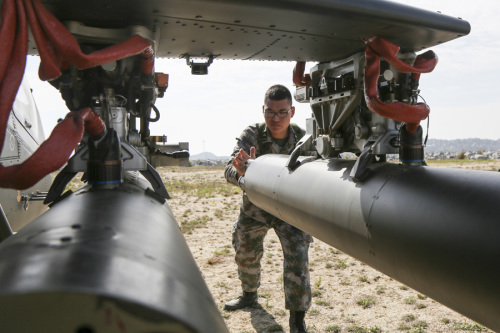 A soldier checks the weaponry on an attack helicopter on Wednesday. (Photo/CHINA DAILY)
An aviation brigade of the People's Liberation Army Ground Force held a live-fire exercise off the country's southeastern coast on Wednesday, according to a statement from the PLA Ground Force.
The statement, which was released on Thursday morning, said several types of armed helicopters took off from a coastal area in China's southeastern region and took part in the exercise. The operation had many demanding scenarios and verified and improved the brigade's all-day combat capability on the sea, it said.
WZ-19 and Z-9 attack helicopters fired rockets and missiles on mock armored vehicles and target ships during the drill, which began around 9 am and concluded around 11 pm. They practiced tactical maneuvers such as target reconnaissance, sea-skimming assault and joint strike, according to the statement.
Yang Baowei, deputy commander of the brigade, was quoted in the statement as saying the exercise was aimed at honing the unit's operational capability at sea, at night and against sophisticated electronic countermeasures. The exercise also tested pilots' ability to respond to rapidly changing situations in action, he noted.
Though the Ground Force did not elaborate on the exercise's exact location, Chinese military observers agree that the event must have taken place in the Taiwan Straits, as it had been referred to by a maritime authority days ago.
The Fujian Provincial Bureau of Maritime Safety published a navigational alert on April 12, saying that the Chinese military would perform a live-fire drill in the Taiwan Straits on Wednesday. The administration released the coordinates of the drill zone-a rectangular area off the province's eastern coast-on its website, asking ships to stay out of the area.
In another development, Shen Jinke, spokesman for the PLA Air Force, said on Thursday that the Air Force conducted several training operations that involved its H-6K long-range bombers flying around Taiwan. He said such operations will continue to be carried out, adding that the Air Force is capable of protecting China's sovereignty and territorial integrity.
Japan's Joint Staff and Taiwan's defense department published announcements on Wednesday and Thursday, claiming that two H-6Ks flew over the Miyako Strait on the two days and then flew along Taiwan's eastern coasts before returning to their bases via the Bashi Channel.
Ma Xiaoguang, a spokesman for the State Council Taiwan Affairs Office, said on Thursday, when commenting on the recent exercises, that separatist activities advocating "Taiwan independence" are the biggest threats to the peace and stability across the Taiwan Straits. He said that any plot to divide Taiwan from the mainland is destined to fail and that "anyone or any party should never underestimate our determination and ability to safeguard the national sovereignty and territorial integrity".