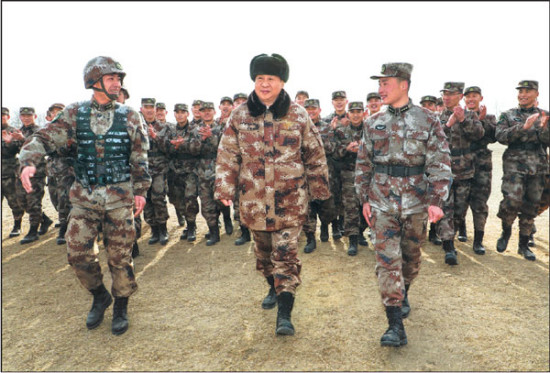 President Xi Jinping, also the chairman of the Central Military Commission, inspects a Ground Force division from the Central Theater Command of the People's Liberation Army on Jan. 4, 2018. (Photo/Xinhua)
President Xi Jinping has issued an order to publish a set of revised regulations governing the responsibilities and discipline of members of the People's Liberation Army.
Xi, who is also chairman of the Central Military Commission, recently ordered that the three revised regulations, which cover every aspect of military life, including administrative procedures, duties and formalities, as well as chains of command and discipline, will take effect on May 1, the CMC Training Management Department said in a statement.
The revisions are intended as modifications in keeping with the rapid evolution of the PLA and to facilitate the military's modernization efforts, the statement said.
They were based on Xi's thoughts on strengthening the military, which have been included in the regulations, it said.
The new regulations highlight combat training, have specific clauses on the management of training and exercises and stipulate that negligence or cheating will be punished.
There are more and clearer instructions on behavior and etiquette for PLA personnel. Members of the military are required to control their weight according to a certain standard.
The previous tight control on mobile phone use has been relaxed. Military members now are allowed to use mobile phones and social-networking applications after they register the hardware and the applications' accounts with their commanding unit.
Fourteen new ceremonies were created for formal occasions such as oath-taking, establishment of new units and saluting those killed in the line of duty.
Clauses on online shopping, prevention of training injuries and psychological consultation were also added to the regulations.
A PLA researcher of regulations, who wished not to be identified, explained that the revisions eliminated some antiquated rules, such as those on mobile phone use, and took reasonable needs from military personnel into consideration.
In consequence, they will extensively improve the PLA's management of services members, he said.