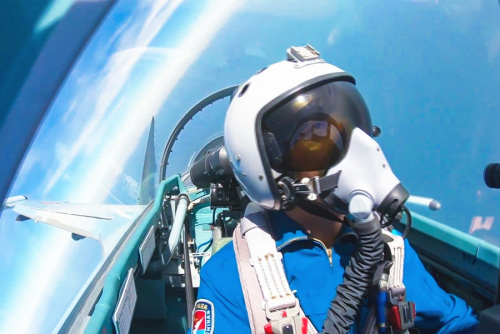 A Chinese pilot during an exercise over the South China Sea. (Photo/Xinhua)
Bombers, jets hone skills over South China Sea, western Pacific
The People's Liberation Army Air Force recently conducted combat exercises over the western Pacific Ocean and South China Sea, according to its spokesman, Senior Colonel Shen Jinke.
Shen said on Sunday that a group of aircraft including H-6K bombers and Su-30 fighter jets flew over the Miyako Strait earlier last week and then carried out combat training over the western Pacific to verify their long-range operational capabilities.
At the same time, another group of H-6Ks, Su-35 fighter jets and other aircraft conducted a joint combat patrol over the South China Sea, practicing aerial maneuvers and strike tactics at sea, he said in a statement published by the Air Force.
The PLA Air Force has become adept at organizing sophisticated joint operations and is able to safeguard the country's sovereignty, national security and interests, Shen said.
This is the second time the PLA Air Force has sent its Su-35s-built by Russia's Komsomolsk-on-Amur Aircraft Production Association and introduced to China in late 2016-to take part in exercises over the South China Sea. The first was in early February.
Photos released by the Air Force showed air-launched cruise missiles under the wings of the H-6K bombers participating in the exercises.
The H-6K is the PLA's most advanced bomber and is capable of carrying supersonic cruise missiles to make precision strikes against land targets or ships. Foreign military observers said that the plane has a flight range of about 3,500 kilometers, while its cruise missile has a minimum range of 1,500 km, which means the bomber is able to hit targets at least 5,000 km from its takeoff point.
A news release published by Japan's Joint Staff on Friday said that in addition to bombers and fighter jets the Chinese Air Force had dispatched a Tupolev Tu-154 signal intelligence jet and a Y-8 electronic warfare aircraft to participate in the western Pacific training exercise.
The Air Force began performing long-range, ocean-bound drills in March 2015 and has organized dozens of such operations since then.
Fu Qianshao, an expert from the PLA Air Force, said that ocean-bound exercises verify not only the Air Force's long-distance combat capability, but also its logistics support and electronic warfare abilities.
According to the Air Force, China is developing a new-generation strategic bomber that will be much stronger than the H-6K. Analysts believe the new aircraft will have a range of at least 10,000 km, enough to perform intercontinental missions.