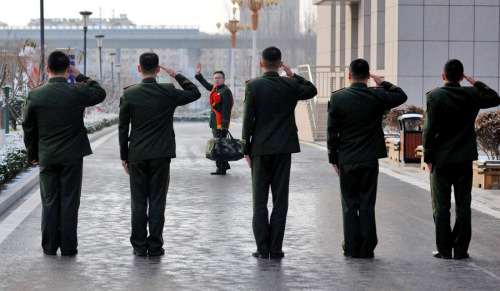 Soldiers from a branch of the border defense forces in Yantai, Shandong Province, see off a demobilized soldier. (TANG KE/FOR CHINA DAILY)
China plans to establish a ministry dedicated to dealing with veterans affairs, according to a government reshuffle plan made available to the media on Tuesday.
The move aims to safeguard the legitimate rights and interests of military personnel and their families, improve the service and management system of retired military personnel, and make military careers more respectable.
It is part of the plan on institutional restructuring of the State Council, which was submitted to the ongoing first session of the 13th National People's Congress for review. [Special coverage]
Responsibilities of the proposed ministry will include making and implementing policies and regulations related to retired military personnel, handling retirement, reemployment and vocational training affairs for veterans, coordinating government departments' support for military personnel and their families, and maintaining military cemeteries and hosting commemorative events, according to the plan.
Currently, a number of government and military departments-the Ministry of Civil Affairs, Ministry of Human Resources and Social Security and two bodies under the Central Military Commission-political work and logistic support departments-are involved in the management of military veterans affairs.
Their authority and responsibilities pertaining to retired military personnel will be transferred to the new ministry if its establishment is approved by lawmakers.
People's Liberation Army Daily reported on Tuesday that, when meeting national legislators from the military on Monday, President Xi Jinping, also chairman of the Central Military Commission, said the country must guarantee that military personnel and veterans be respected, stressing that this is a fundamental principle.
The newspaper quoted official statistics as reporting that China has more than 57 million veterans and the number is increasing by hundreds of thousands annually.
Lieutenant General Li Wei, political commissar of the PLA Xinjiang Command, said that the decision made by Xi to set up a system for veterans will completely resolve the problems faced by military retirees and will be a milestone in this regard, according to the report.
At the 19th National Congress of the Communist Party of China in October, the Party called for the establishment of a department governing veterans affairs, explaining this will better protect the rights and interests of military personnel and their families, and make military service an honorable vocation.
In late January, Hebei set up the nation's first provincial center for veterans' management and service and started building a provincewide network to offer support and services to military retirees.