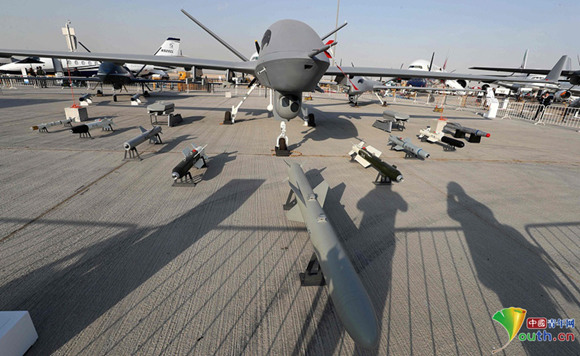 China's Wing Loong II is displayed at the Dubai Airshow 2017 in Dubai, the United Arab Emirates, on Nov. 12, 2017. (Photo/Youth.cn)
On the just-closed Dubai Airshow, the third largest of its kind in the world after Paris and Moscow, China's home-developed drones and Unmanned Aircraft System (UAS) Total Solution demonstration drew attentions, with visitors experiencing in the indoor display hall interactions of the drone, the ground station and the data links.
The Unmanned Aerial Vehicles (UAV) on display include Wing Loong, Cloud Shadow and A-Hawk.
The Wing Loong series are long-endurance UAVs, with capabilities to conduct all-time, all-weather, wide-area comprehensive detection and continuous tracking and surveillance on time-sensitive targets, said Ji Xiaoguang, the head of the Aviation Industry Corporation of China (AVIC) Chengdu aircraft design and research institute, adding that the series includes highly mature products, which has gone through massive testing and assessing.
The high-altitude and high-speed Cloud Shadow series UAVs are adapted for wide-area electronic reconnaissance and strike tasks, Zhang Jianlong, general manager of Chengdu Aircraft Industry Group of AVIC said.
With a flying altitude of 13,000 meters, the Cloud Shadow covers over 10,000 square km with photoelectric detection equipment, and ground radars in an area of 400 square km. Equipped with advanced electronic surveillance devices, it is ready to precisely attack targets within 60 km.
The A-Hawk series, with its multi-rotor platform, features a large load capacity that is easy to carry, according to AVIC's official website. It is adapted for an individual soldier to conduct local situation monitoring, as well as unmanned transportation under harsh battlefield conditions.
Vice president of the state-owned AVIC Zhang Xinguo introduced the UAS Total Solution as reflecting capabilities of data transmission, flight and task controls, with a single station in control of several vehicles.
He added that clients are provided with a complete solution, with many visitors attracted by the autonomous and intelligent system in the exhibition stand, which shows communication system signs, ground control station simulation, interactive flight scene, and a rendering of a background scene.
Zhang also mentioned the Middle East region as a target region for usefulness of the solution. "Drones can be used in detection, surveillance and intelligence with the vast deserts and extreme climate in this region. Our drones can detect specific target and landscape, catering our consumers need."
Drones are supporting, and gradually working in place of manned flying vehicles in long-distant flight and dangerous tasks, he added.
Moreover, the whole set of the services produced to the consumers also includes training, after-sale support, and a full-lifespan service of the drone, Zhang said.