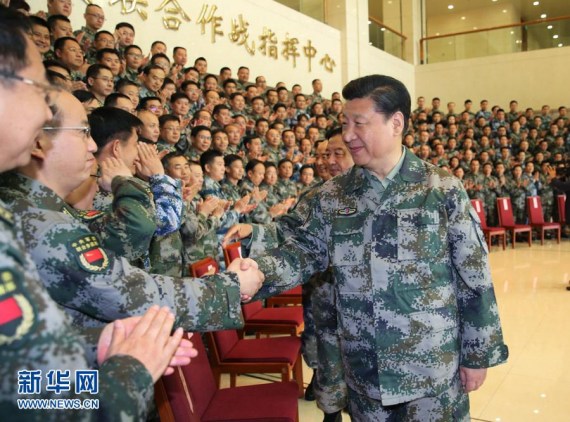 Chinese President Xi Jinping inspects the joint battle command center of the Central Military Commission on April 20, 2016. (Photo/Xinhua)
Chinese President Xi Jinping inspected the Central Military Commission (CMC) joint battle command center on Wednesday, calling for building a joint battle command system with Chinese characteristics.
Xi visited the center Wednesday morning, where he serves as the Commander in Chief, calling on the center to implement the military strategies under the new situation and focus on its core key functions of studying and commanding wars.
Xi, general secretary of the Communist Party of China (CPC) Central Committee and CMC chairman, also asked officers to change their ideas, innovate and tackle difficulties, in a bid to build a joint battle command system that was "absolutely loyal, resourceful in fighting, efficient in commanding and courageous and capable of winning wars."
The strategic and operational command system should be efficient and active in both peace and war, Xi said.
According to Xi, improving the center is a significant part of deepening the reform on national defense and military as well as a key measure to strengthen the CMC's function of strategic command.
"The current situation requires battle command to be highly strategic, coordinated, timely, professional and accurate," Xi said, urging staff at joint battle command centers at both CMC and theater command levels to bear in mind a sense of crisis and adapt to the strategic demands of national security.
Xi told the officers to closely follow the trends of global military revolution and strive to build a joint battle command system that meets the need of fighting and winning an informationized war.
"All must be done with the ultimate goal of improving battle command capacities and measured by the standards of being able to fight and win wars," Xi said, urging a focus on solving conflicts and problems limiting joint battle command.
Xi called for "extraordinary methods" to foster joint battle command talent, stressing that "a major breakthrough should be achieved as soon as possible."
Pressing efforts should be exerted to develop advanced military technologies to make the means of command more sophisticated and effective, Xi said.
Xi also called for research on how to win informationized wars and the mechanism of modern battle command so as to build an advanced theoretic system for battle that cater to Chinese military's characteristics and is compatible with the nature of modern warfare.
A set of joint battle regulations should be established in line with the military reform, Xi added.
Xi urged the CMC joint battle command center to accurately understand its functions, further improve marshalling, optimize procedures, clearly define responsibilities and perfect the operational mode.
Xi called for strengthening the study of command theories, training of command skills and situation-handling drills to constantly enhance actual command capabilities.
He also stressed war-preparedness work, in-depth analysis of possible security risks, and effective handling of all sorts of emergencies.
The operation of the CMC joint battle command center should help improve the operation of such centers at the theater command level, and joint battle command capabilities should be built up as quickly as possible, Xi noted.
Earlier in February, China's military was regrouped into five theater commands, including the Eastern Theater Command, Southern Theater Command, Western Theater Command, Northern Theater Command and Central Theater Command.
Fan Changlong and Xu Qiliang, vice chairmen of the CMC, attended the inspection.