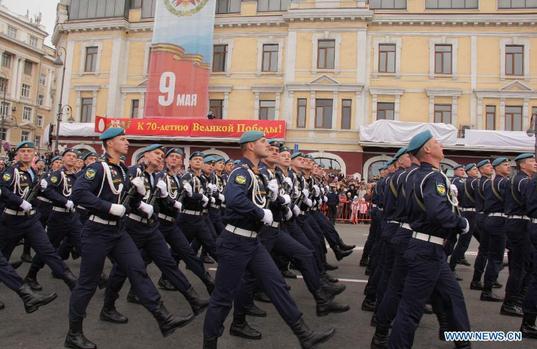 Russian soldiers take part in the military parade marking the 70th anniversary of the victory in the Great Patriotic War, in Vladivostok, Russia, May 9, 2015. (Xinhua/Zhu Yushu)
China has invited Russian troops to march in a parade in Beijing in September to commemorate the end of World War Two, the Defense Ministry said on Monday.[Special coverage]
A Defense Ministry statement issued on the ministry's website on Monday said Fan Changlong, vice-chairman of China's Central Military Commission, told Russian Defense Minister Sergei Shoigu that China "warmly welcomes Russian military leaders and army formations" to take part in the September events in Beijing.
The two top military officials met in Moscow on Sunday following a Saturday parade at the Red Square to mark the 70th anniversary of the victory of the war against Fascists in Europe.
"We gladly accepted the invitation by the minister of defense of the People's Republic of China to take part in celebrations on the occasion of the 70th anniversary of victory in World War II on September 3 this year. We agreed to send a subdivision of the Russian Armed Forces to the military parade," Shoigu was quoted by RIA Novosti as saying.
Chinese President Xi attended the parade in Moscow and China's military formation made a debut at the Red Square parade.
Xi's visit to Russia and appearance at the Moscow commemorations "pushed the China-Russia all-round strategic partnership to a new level," Fan added, according to the statement.
China's Foreign Ministry said in March that China "has invited leaders from all countries and world organizations concerned" to the September parade. The Russian President's office has confirmed that President Vladimir Putin will attend the parade, according to China's Foreign Ministry.