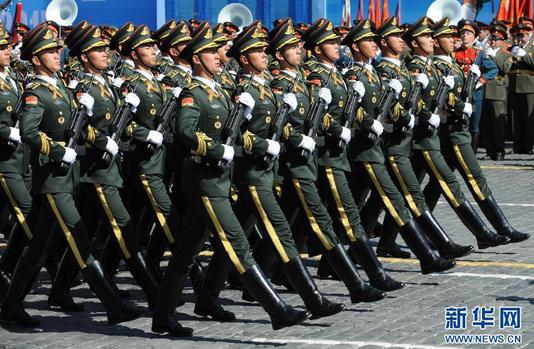 The guards of honor of China's People's Liberation Army (PLA) march during a rehearsal for the Victory Day parade in Red Square in Moscow, Russia May 7, 2015. The Chinese servicemen walk 116 steps per minute at 75 centimeters per step, according to sources. They led the rehearsal of servicemen from 10 countries. (Photo/Xinhua)
For the Chinese audience, two highlights of the Victory Day parade on Red Square on Saturday will be the appearance of President Xi Jinping at the reviewing stand and the PLA honor guard marching on the cobblestones of history outside the Kremlin.[Special coverage]
This will be the first time that the People's Liberation Army has taken part in a military review on Red Square.
The public's interest has been ignited with video and photos of the honor guard marching in rehearsals on May 4, in their latest uniform and singing the Russian wartime marching song Katyusha, in both Russian and Chinese. They won loud and appreciative applause from Russian onlookers as well as numerous fans in cyberspace.
Li Bentao, head of the PLA honor guard, said the 102-strong Chinese honor guard is the tallest of the 10 foreign and 52 Russian formations.
Though the PLA honor guard is renowned for its well-drilled marching, Li said the Red Square march raised several challenges.
For one thing, unlike the 80-cm-long stride taken by Russian soldiers, PLA troops are trained for 75-cm steps at a rate of 116 steps per minute, so they must adjust in Moscow to stay in step with the Russians.
"It's quite challenging for us to march through Red Square at the same speed as other formations," Li said.
Also, he said, the Red Square cobblestones are different from Beijing's Tian'anmen Square and "training the Chinese soldiers to sing in Russian was also not easy".
Training was held at a venue two hours' drive from their residence, which meant they had to get up at 3 am.
However, Li said, the Chinese troops overcame the difficulties, and for soldier Lang Xujie it will be an occasion to remember.
"The Russians are very good hosts, so we adapted to the situation here quickly. This is my first trip abroad, and I'm attending Russia's Great Patriotic War Victory celebration ... I'm so proud. It reminds me how amazing it is to live in peace," Lang said.
Zhang said that when the Chinese troops sang Katyusha the first time in rehearsal, the other formations were surprised and sang together with the Chinese, and many of the young soldiers had tears in their eyes.
Katyusha is one of the designated marching songs for Russian troops and deeply evocative of the wartime struggle. The army of the former Soviet Union sang it as they advanced on Berlin in 1945.
China Radio International contributed to this story