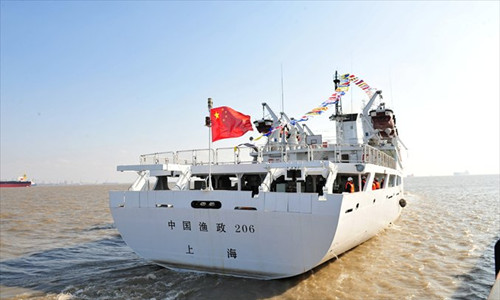 The Yuzheng 206, one of China's largest and most advanced fishery patrol ships, sets out on its maiden voyage from Shanghai on Tuesday. The country has been building more patrol ships to beef up its law-enforcement power in Chinese waters. Photo: Xinhua
Two Chinese government ships sailed into the territorial waters of the disputed Diaoyu Islands on Tuesday, one day after a Chinese flotilla patrolled the waters near the islands, the Japanese coastguard said.

The maritime surveillance vessels entered the 12-nautical-mile zone around one of the islands shortly after noon, according to AFP.

It is the 15th time China's maritime surveillance ships have entered the waters off the Diaoyu Islands since Japan's decision to "nationalize" the Diaoyu Islands in September, Kyodo News reported.

Japan's patrol boat sent warnings to the two surveillance ships, which were painted with the names China Marine Surveillance 50 and 56.

But the two Chinese ships responded via radio communication that the Diaoyu Islands have been part of Chinese territory since ancient times, while the China Marine Surveillance 50 signaled on its electronic bulletin board that the Japanese boats should leave Chinese territorial waters immediately, according to Kyodo News.

Also on Tuesday, Chinese fishery patrol ship the Yuzheng 206 left Shanghai for the East China Sea.

The 5,800-ton ship, one of the largest and most advanced ships owned by China's fishery administration authority, was on its maiden voyage to protect fishing activity, according to the Xinhua News Agency.

The commissioning of the Yuzheng 206 will further enhance the law enforcement capabilities of the fishery authority and has significance in terms of safeguarding the rights of Chinese fishermen and the country's maritime interests, the report said.

China will speed up the development of its fishery administration boats because the current number of the boats is limited, and most of the administration's boats are small, Xinhua reported.

The commissioning of the Yuzheng 206 came one day after a flotilla of the People's Liberation Army (PLA) Navy patrolled waters near the Diaoyu Islands.

The flotilla, consisting of two destroyers and two frigates, passed through the Miyako Strait and entered the West Pacific for a routine training exercise on November 28 and arrived in waters surrounding the Diaoyu Islands Monday morning.

A statement issued by the ministry of defense on Monday said China will continue naval training exercises in the West Pacific.

Monday's navy patrol in the waters near Diaoyu Islands was the third of its kind conducted since Japan stirred up tensions with China over the Diaoyu Islands earlier this year.