Chinese well drilling firm helps turn Egypt's desert into green farmland
2022-07-21 Xinhua Editor:Mo Hong'e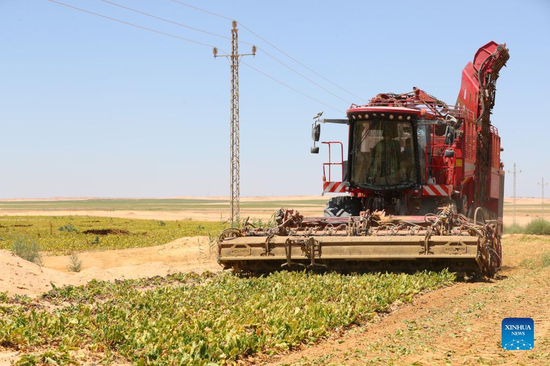 A harvester reaps beets at a beet plantation in a desert of Minya Province, Egypt on July 11, 2022. (Xinhua/Sui Xiankai)
As a giant sugar beet harvester powered through the vast farmland in the desert west of Minya province in southern Egypt, dozens of trucks were busy loading the harvested beets and transporting them to a processing factory about 40 km down the road.
"We're now quite happy with the amount of sugar that we get out of our beets. This will be our second year and we've seen about a 50-percent increase in yield over last year, so we feel that we've got a very good model and we're able to create a crop that can feed the factory," said Aaron Baldwin, agriculture general manager of Canal Sugar, a 1-billion-U.S.-dollar joint venture between Egypt and the United Arab Emirates (UAE).
The Canal Sugar project aims to turn 50,000 hectares of desert into farmland to meet the factory's enormous demand for sugar beets. To make this happen, finding enough water for irrigation is crucial.
"We came to the middle of the desert and, with the help of China's Zhongman Petroleum and Natural Gas Group Corp., Ltd. (ZPEC), we started doing exploratory wells, and then developed a network that allows us to start irrigating," Baldwin told Xinhua, adding that "when the project is completed, there should be a well field of about 330 to 350 wells."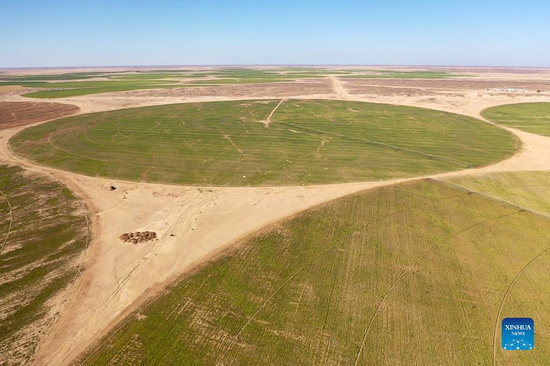 Aerial photo shows a beet plantation in a desert of Minya Province, Egypt on July 11, 2022. (Xinhua/Sui Xiankai)
With over 150 water wells drilled, large swathes of lush and green sugar beet fields have been scattered across the desert, forming an enormous farm to feed the beet processing factory.
"The place was just a desert when we started this project in 2018, but now it turns into a farmland irrigated by the wells we drilled and planted with beet, alfalfa and barley, which makes us feel proud," said Zhou Guiqiang, toolpusher of the ZPEC branch in Egypt.
Zhou emphasized that the project goes in line with both the China-proposed Belt and Road Initiative, which seeks win-win cooperation among participants, and Egypt's plan to turn deserts into farmlands.
When it first came to the site, ZPEC faced many challenges related to the geological conditions of the area, but through relentless research and exploration, the project has been going "smoothly," said the Chinese toolpusher.
"In the beginning, drilling a well took us about one month, while now it can be completed in about 14 days," he noted.
"Now we have completed more than 150 high-quality wells, over 50 of which are in operation, and Canal Sugar is satisfied with our work," Zhou told Xinhua.
After it reaches its full capacity, the mega factory can produce 900,000 tonnes of white sugar each year. It will be a significant boost for Egypt's sugar production, which now stands at around 2.8 million tonnes every year.
Sugar is an essential commodity for Egyptians. The populous Arab country consumed more than 3.3 million tonnes of sugar every year.
Baldwin expressed happiness and satisfaction with the work of ZPEC, saying the Chinese drilling company has done "a great job" and noting that the sugar factory was also built by another Chinese company.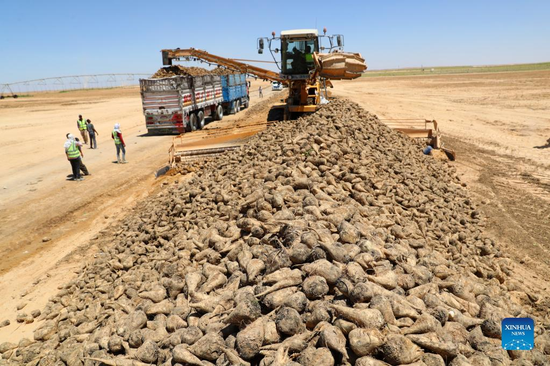 A farming machine loads newly-harvested beets onto a truck at a beet plantation in a desert of Minya Province, Egypt on July 11, 2022. (Xinhua/Sui Xiankai)
Baldwin, who proudly picked up a beet from the farm, described the Chinese drilling firm as one of the main partners in developing the farm's irrigation system, expecting the farm to produce around 2 million tonnes of sugar beets annually within the next three years.
"For me, I've developed some good friendships and I see a great prospect for ZPEC and other Chinese companies here in Egypt and the Middle East," he said.
For his part, Ahmed Soliman, a base manager of ZPEC, said that he joined the Chinese company in 2019 and joined the Canal Sugar project in early 2020.
"I feel happy to participate in turning this vast desert green. It's like a dream. When I first came here, I didn't imagine someday it will be turned into all this huge farm," the Egyptian man told Xinhua.