Language student gains insights into boosting ties
2021-11-30 China Daily Editor:Wu Xinru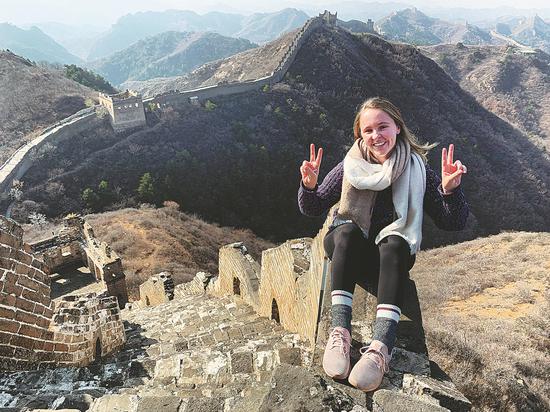 Kendall Kracke at the Great Wall in Beijing. (Photo/China Daily)
Fresh from high school, Kendall Kracke took a leap of faith as an introverted teenager to study in China for six months.
Kracke, a graduate student in Chinese language education at Portland State University, recalled how she experienced frustrations, surprises and joy while learning Chinese.
It took Kracke six years to learn the Chinese language and she eventually became champion of the 20th Chinese Bridge Chinese Proficiency Competition for Foreign College Students.
For Kracke, a Chinese language student should practice listening to Chinese songs and watching Chinese movies or television shows. When writing and reading became difficult and discouraging, she mustered up the courage to talk to her Chinese friends, which she found invaluable.
"When your speaking and listening are okay, then you can practice reading. I also read some children's books," Kracke said. "Even though I have a world champion title, I'm still only reading middle school books. If I read a difficult book, I will read it slowly."
Kracke's advice for those who want to learn Chinese is to visit China. She visited China five times between 2015 and 2021. She still remembers reading street signs and struggling to switch between Mandarin and Cantonese during one of her trips to the southern province of Guangdong.
Kracke also recalled the serene environment in Hangzhou, famous for its stunning scenery, where she lived from the fall of 2017 to the summer of 2018. Every day after school, she rode a bicycle to the West Lake. Walking for miles at a time, Kracke sometimes listened to a saxophone player nearby, observed people painting calligraphy and often watched boats cruised on the lake.
During her most recent stay of about two years, Kracke taught Chinese at a training school in Qingdao. Kracke said it was difficult to be away from her family due to the COVID-19 pandemic. "Sometimes it was scary, especially in the US, where the pandemic was out of control," she said.
However, Kracke's face lit up when she talked about her students, playing the guzheng, visiting the Olympic sailing center and making friends.
Having spent a lot of time in China, Kracke became fluent in Chinese, made more Chinese friends and had deep cultural experiences.
Speaking of the future of US-China ties, Kracke said she feels optimistic and hopes the Chinese language would bridge the gap.
"Recently, the political environment has definitely been turbulent. So if I look at that, it gets a bit more pessimistic. But then, I remember all my personal connections that I have with American and Chinese people, and everyone just wants the same thing," Kracke said. "Actually, here I see more people starting to learn Chinese. Hopefully, with more people learning each other's culture and language, the relationship will get better."