Better emergency response will help build 'resilient' cities
2021-11-16 China Daily Editor:Mo Hong'e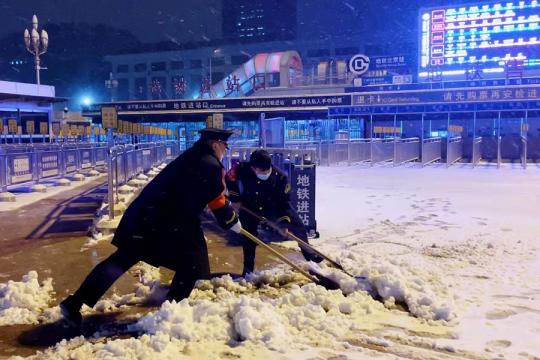 Many departments in Beijing started snow cleaning on Saturday night. (Photo provided to chinadaily.com.cn)
Cities today face more frequent and complex problems because of their rapid urbanization in recent years. For example, the severe floods that hit many parts of China this year exposed the shortcomings in infrastructure, urban operation and emergency responses. So the authorities have decided to pay greater attention to natural disasters, public health threats, environmental pollution and public conflicts.
According to the guidelines issued by the general offices of the Beijing Municipal Committee of the Communist Party of China and the Beijing municipal government, more efforts will have to be made to make the city more "resilient" against such risks. The guidelines focus on the capital city's emergency response capability and making it more resilient through improved urban planning, infrastructure construction and management. A resilience evaluation index and standard system will be established by 2025, and 50 resilient communities, blocks or projects will be built to evaluate successful practices that can be rolled out citywide.
The document puts forward a number of other practical policies and measures to increase Beijing's resilience against risks. For example, in order to increase space for evacuation and rescue operations, facilities such as squares, green spaces, parks, schools, stadiums and civil air defense structures will be gradually designated as emergency shelters, and per capita area of emergency shelters will reach 2.1 square meters by 2035.
To improve safety in buildings, the fire-fighting facilities will be strengthened. Also, fire risks posed by the use of combustible external wall insulation materials in high-rises will have to be eliminated in five years. Achieving such specific "hard targets" will help Beijing improve its resilient city index system.
The document also said the resilient city development concept, and knowledge about emergencies and how to respond to them will be included in primary and secondary school and college education, and basic public emergency literacy training programs will be organized.
By 2025, the percentage of adults trained in giving cardiopulmonary resuscitation to people during emergencies, dealing with disasters and preventing riots is to be raised to 20 percent citywide.
Building a resilient city is a systematic project that involves every aspect of society, and requires assigning responsibilities, strengthening supervision, and building a strong joint force for policy implementation.