Hubei teacher spends 24 years at mountain school
2021-10-12 Ecns.cn Editor:Wu Xinru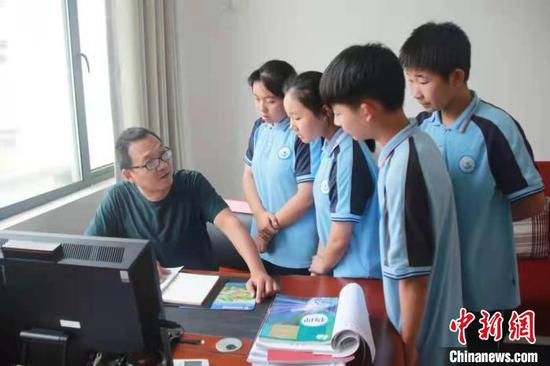 Zhu Xijun is teaching students in his office at Gufu Township Junior High School (Photo: China News Service/Nie Zhiyuan)
(ECNS) -- A 46-year-old physics teacher in Xingshan County, Hubei Province, has helped more than a hundred students break the barriers of their surroundings in the past 24 years.
Zhu Xijun was born locally into a poor family in Gudong Village. His parents barely managed to raise their three children. He dropped out of high school to earn a living, with his Chinese teacher pulling him back to class.
"Only knowledge can change your fate," his teacher said.
Grateful to his Chinese teacher who was also his role model, Zhu became a teacher at Gufu Township Junior High School in 1997 and worked in a rural middle school.
After learning about the financial and study difficulties faced by many township students, he decided to help. He not only gives students lessons but also cares about their family life and mental state since some students are left-behind children.
Once he had a student whose parents had died in an accident and had struggled in life and studies since. To help her out, Zhu, together with other teachers, offered her extra tuition and covered her living expenses with his own salary. Thanks to these efforts, the student made huge progress in her grades and finished college later.
During winter and summer vacations, Zhu also volunteers to visit the homes of his students in need of extra tuition.
"I want to try my best and help the students go beyond the mountains," said Zhu.