Doctor devotes life to healthcare in highlands
2021-09-17 China Daily Editor:Xue Lingqiao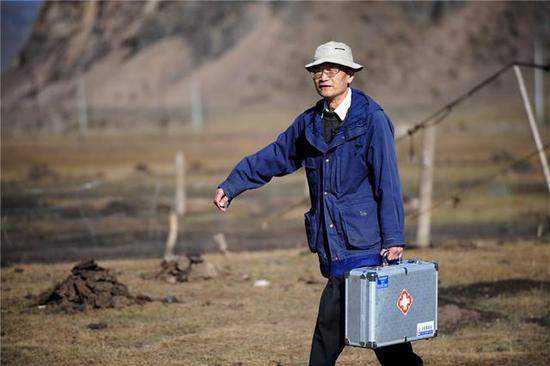 Wang Wanqing walks to treat a patient. (Photo/Xinhua)
Leaving the booming coastal metropolis Shanghai for Maqu, a remote county on the eastern edge of the Qinghai-Tibet Plateau, Wang Wanqing has devoted decades to healthcare in the area.
Dressed in a cotton-padded indigo overcoat, the 77-year-old physician was reading medical literature in a shabby cottage built in the 1990s while waiting to be interviewed.
"My time is running out, but I can still do some work for the reference of other doctors," he said.
When he first came to the county in 1969, Wang could not have predicted that he would stay for more than 50 years, let alone win national recognition for his service.
Back then, most of China's rural areas suffered from inadequate medical services and supplies. To change the situation, the Chinese government promoted the importance of healthcare in rural areas and encouraged medical personnel to work in remote areas.
Wang, who was born in Shanghai and spent the first two decades of his life in the city, was among the first batch of medical graduates from prestigious universities who volunteered to work in rural China.
"I would have gone wherever my country needed me," he said.
After days of bumpy journeys by train, bus and even carriage, Wang finally reached Awancang township in Maqu, located in the northwestern province of Gansu. At the time, most of the residents were herders, living scattered across the 1,500-square-kilometer township.
When Wang set foot in the health center, the only medical establishment in the township, he was shocked by the poor working conditions. Two adobe rooms-one for receiving patients and another serving as a dormitory-contained no more equipment than a blood pressure gauge and a stethoscope.
The first night was tough. At an altitude of about 3,700 meters, the strong wind howling outside the dormitory combined with altitude sickness kept him from falling asleep. He fetched a flute he'd brought from Shanghai from his luggage and started to play.