Girls' school principal sends class on new path
2021-06-10 China Daily Editor:Mo Hong'e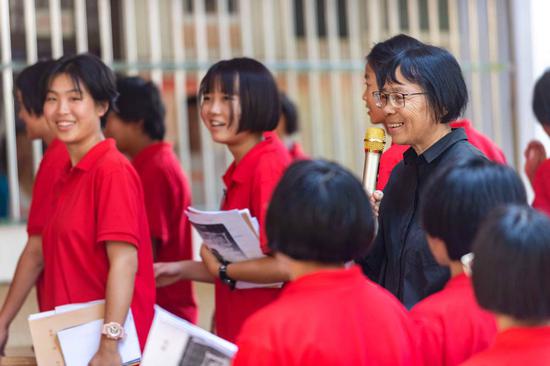 Role model Zhang Guimei (right) addresses students at Huaping Girls' High School in Lijiang, Yunnan province, in September 2020. (CHEN XINBO/XINHUA)
As students celebrated finishing the highly competitive national college entrance exam, or gaokao, on Tuesday afternoon, Zhang Guimei, founder and principal of the first free high school for girls in China, said she needed to "hide" in her office.
Zhang chose to spend one of the most emotional days of the year alone, and did not allow any students to bid her farewell. "I have one rule. Once they leave the school, they should move on and never look back," she said in an earlier interview.
A total of 150 students graduated from Huaping High School for Girls in Huaping county, Yunnan province, this year. One of the poorest areas in the country, Huaping was lifted out of absolute poverty in December, according to Yunnan Daily.
Since the boarding school was opened in 2008, 1,804 girls from impoverished families have been enrolled by universities after taking the gaokao. The exam allows students from less-privileged families to compete with their urban counterparts and make it to top universities and the possibility of a good job in the future.
Starting on Monday, a record 10.78 million students across the country took this year's gaokao. In Yunnan, the exams ended on Tuesday, but they will last through to Thursday in some other provincial regions.
Early Monday morning, Zhang escorted the new graduates as they went to take the exam at another school. It is the 11th class of graduates that she has sent off. Every time, it is bittersweet experience for her.
Battling the pain from a dozen illnesses, including emphysema and benign tumors in her skull, she joined younger students from the girls' school in singing songs to help the graduates relax.
Zhang, who was born in the northeastern province of Heilongjiang, was 17 when she moved to Yunnan in 1974. A year after her husband's death in 1996, she volunteered to teach at a middle school in Huaping. She soon found that many of the female students in her class disappeared before finishing their studies as some were forced to work or get married at a young age.
"A girl can influence the next three generations," she once said. "An educated and responsible mother will never let her children drop out of school."
Students enrolled at Huaping follow a strict schedule, getting up at 5:30 am and going to bed after midnight. Even their lunch break is limited to 15 minutes.
Zhang keeps the same daily routine as the students, accompanying them to classes and going to bed after the senior students finish their studies at midnight.
One of students, Mi, said that after she did not perform well in a trial exam, Zhang showed her fingers to her, which were bound with medical tape, according to a video report by Xinhua News Agency. "I need to put the tape on every day as my fingers hurt badly every morning when I wake up," Zhang told Mi, making the point that sacrifice was needed to succeed.
Li Li, another graduate interviewed by Xinhua, said Zhang is a role model. "Like you, I will also make contributions to people around me and to society. Thank you, Mrs Zhang."
The Xinhua video was viewed almost 13 million times as of Wednesday afternoon and prompted an outpouring of support and good wishes from netizens for Zhang.
"She is a respectable principal," wrote one netizen. Another said, "I hope she will take good care of herself and have a good rest."