Poverty banished by rural road network
2021-03-26 China Daily Editor:Mo Hong'e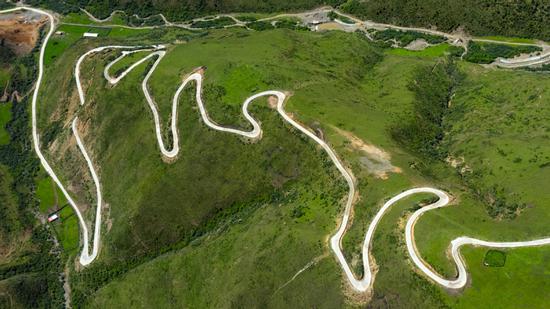 The 34-kilometer high-altitude road that connects the center of Zamtang county and the townships of Shangduke and Nanmuda in Aba Tibetan and Qiang autonomous prefecture, Sichuan province. (Photo/Xinhua)
A country road winding through mountains in southwestern China's Sichuan province has become popular recently on domestic social media apps such as Douyin.
Web users have shared stories, video clips and photos of them driving, walking and even dancing along the road. One woman posted a video showing her placing a table beside the road and then drinking rum.
The 34-kilometer road, which opened in 2018, was built at an altitude of more than 4,000 meters and benefits more than 2,000 herders. It connects the center of Zamtang county, the townships of Shangduke and Nanmuda and a few villages in Aba Tibetan and Qiang autonomous prefecture.
A narrow gravel road was previously the main route for herders, who used horses and yaks for transportation. They were unable to ship fresh agricultural produce out of the mountains quickly and that meant they couldn't sell it.
"It used to take two days for herders from a remote village to go to the town center to sell yaks. Now it takes 40 minutes," said He Dongming, deputy head of Zamtang's transport bureau.
The road is one of many transport infrastructure projects that have been built in Aba to lift people out of poverty and improve their lives.
Aba has a population of 920,000, an area of 84,200 square kilometers and is located where the provincial borders of Sichuan, Gansu and Qinghai meet. Sixty percent of its population are members of the Tibetan ethnic group and 18 percent are Qiang.
In 2013, about 14.5 percent of the population lived in poverty, concentrated in the counties of Xiaojin, Zamtang and Heishui. All the prefecture's residents have now been lifted out of poverty.
Addressing a grand gathering in Beijing late last month, President Xi Jinping declared a "complete victory" in the nationwide fight against poverty.
There's a Chinese saying that goes "to get rich, first build a road", and the newly improved road network in Aba played an important role in winning its poverty alleviation battle.
Since 2009, the Ministry of Transport and the provincial transport commission have invested 1.83 billion yuan ($280 million) to build 1,109 km of roads and 85 bridges in the three counties. The commission's contribution was 216.5 million yuan.