Global health 'passports' met with caution
2021-03-10 chinadaily.com.cn Editor:Liu Yimeng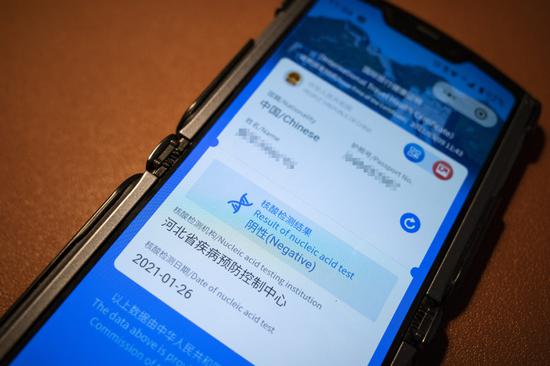 A sample image of a digital health certificate for international travelers on the WeChat mini program. (Photo provided to China Daily)
International travel health certificates to show that a person has been vaccinated against COVID-19 are being rolled out or discussed by many governments around the world to help restart economies and cross-border travel.
However, the potential for discrimination, theft of health information or fraud is among experts' concerns.
On Monday, China officially kicked off a mini program, backed by the social media app WeChat, that enables subscribers to obtain a Chinese version of an international travel health certificate, allowing people-to-people exchanges to resume in a safe and orderly way.
While protecting personal privacy, the certificate will help achieve mutual recognition of information such as COVID-19 nucleic acid testing and vaccination.
China is willing to discuss mutual recognition of vaccination, and how it would work, with other countries, State Councilor and Foreign Minister Wang Yi said at a news conference on Sunday on the sidelines of the ongoing session of the National People's Congress, the nation's top legislature.
Iceland in late January became the first country in the 26-member Schengen Area, a passport-free zone in Europe, to issue vaccine certificates.
Meanwhile, the leaders of the 27-member European Union hope to adopt a proposal for its vaccine "passport", known as a Green Digital Certificate, at a meeting of member states on March 17.
"Exactly how it will then be used by member states in order to improve freedom of movement still needs to be defined," Eric Mamer, chief spokesman for the European Commission, the executive branch of the EU, said during a virtual news conference on Monday.
The EU aims to vaccinate 70 percent of its adult population by the end of this summer, but so far less than 10 percent has been vaccinated.
Austrian Chancellor Sebastian Kurz has joined some tourism-dependent countries such as Spain and Greece in pushing for vaccination certificates. "Those who are vaccinated should have full freedom," he said.
Tourism provides 27 million jobs in Europe and generates about 10 percent of the EU's GDP when tourism-dependent sectors are included.
German Chancellor Angela Merkel said that for now, treating vaccinated travelers preferentially "isn't on the agenda, given the low vaccination coverage at this point".But she indicated openness to such certificates later this year.
The French government also was cautious, with some officials worrying about a resurgence of new cases with such certificates. Surveys have indicated that only half of French people were willing to be inoculated.
Cyprus said it will begin welcoming vaccinated visitors from the United Kingdom on May 1.