Biodiversity recovering in China's longest river with fishing ban
2020-12-25 Xinhua Editor:Mo Hong'e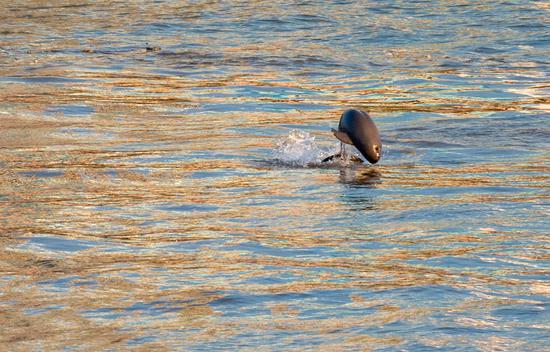 A finless porpoise is seen in the Yangtze River in Yichang, central China's Hubei Province, Aug. 3, 2020. (Photo by Lei Yong/Xinhua)
Instead of sailing a boat and catching fish on the Yangtze River, ex-fisherman Wang Gende's daily work now is skippering an engineering boat to provide port services on the longest waterway in China.
"Many kinds of fish and creatures have reappeared after fishermen moved ashore and stopped fishing," said Wang, from Yuanjiang Village in Anqing city, East China's Anhui province.
The Yangtze, which stretches over 6,300 km, has a rich and complex terrain and climate along its basin and boasts one of the highest levels of biodiversity in the world.
According to China's 2019 bulletin on aquatic biological resources and habitat status in the Yangtze River basin, the water quality in major fishery waters is good. However, the protection situation of some rare and unique aquatic species is still grim.
In January this year, in a significant move to protect biodiversity, China began a 10-year fishing moratorium in 332 conservation areas in the basin, which will expand to all the natural waterways of the river and its major tributaries from no later than Jan. 1, 2021.
The effort is seeing notable results. "The biodiversity is recovering in the Yangtze. The species number has so far increased to 79 in the Jiangsu section of the river from 48 at the beginning of 2017," said Zhang Jianjun, deputy director of the department of agriculture and rural affairs of east China's Jiangsu Province.