Revisiting children in impoverished rural areas
2020-06-01 Xinhua Editor:Mo Hong'e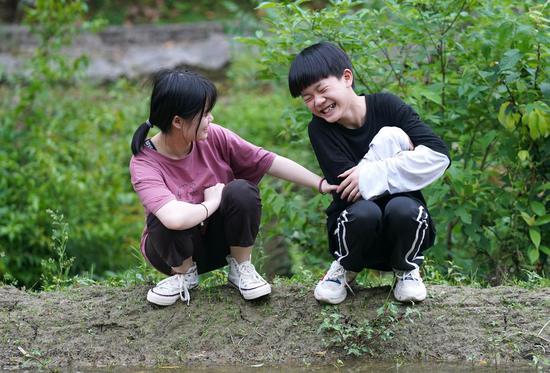 Luo Meiwei (L) and her brother Luo Chenghui have fun in a field in Shangyuan Village, Ruijin City of east China's Jiangxi Province, May 7, 2020. (Xinhua/Wan Xiang)
Childhood should be full of love and laughter. Yet some children have shouldered a much heavier burden. Just as an old Chinese saying goes, children in poor families are forced to grow up faster and become independent quicker than their peers.
China's nationwide poverty-alleviation campaign, which vows to eliminate absolute poverty by 2020, is set to bring a better life to these kids.
YANGCUN VILLAGE
Zhou Tao, Yangcun Village of Suichuan County, eastern China's Jiangxi Province, finally bid farewell to his shadow "friend," a white gauze mask, after years of painful struggles.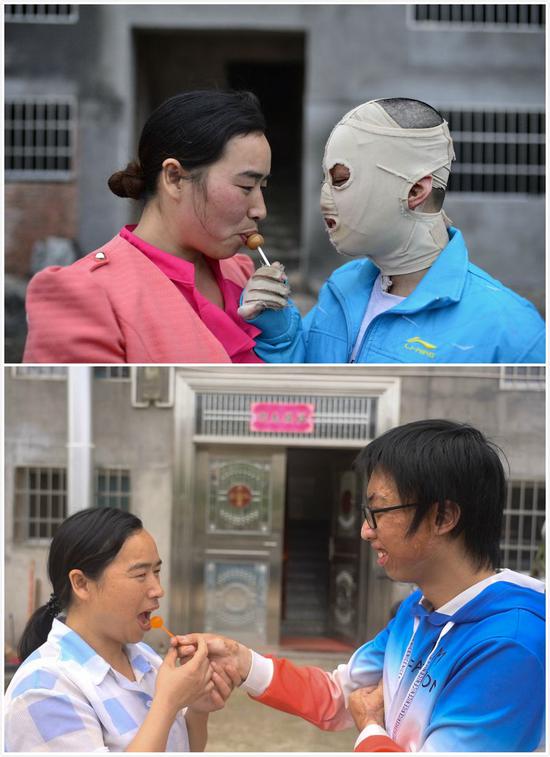 This combo photo taken respectively on Nov. 5, 2014 and on April 30, 2020 shows Zhou Tao (R) feeding his mother with a lollipop in mask (up) and without mask (down) in Suichuan County, east China's Jiangxi Province. (Xinhua/Zhou Mi)
In March 2014, at the age of 13, the boy was disfigured in an accidental fire, in which 38 percent of his entire body was burned.
Since then, Zhou has been wearing a mask and became "the boy behind the mask."
"I dared not hang out," he reminisced. "The strange looks from passers-by made me uncomfortable, and it even led me into a spiral of self-loathing."
With the love and support from his family and schoolmates, as well as years of continued rehabilitation, his wounded heart was gradually healed.
"I'm recovering well, though obvious scars can still be seen on my face, neck, hands and feet," Zhou said. "Compared with five years ago, I no longer feel inferior, and now I go out alone now."
Zhou's family was registered as low-income in 2017 and granted living allowances and subsidies for his surgeries. A surgery in 2018 cost the family over 36,500 yuan (about 5,108 U.S. dollars), 90 percent of which was reimbursed. The government also provides the family with low-interest loans to help them start their own business.
"I hope my son could live a normal and better life," said Zhou's 43-year-old mother.