Silver lining for China's fitness industry amid COVID-19 outbreak
2020-05-25 CGTN Editor:Gu Liping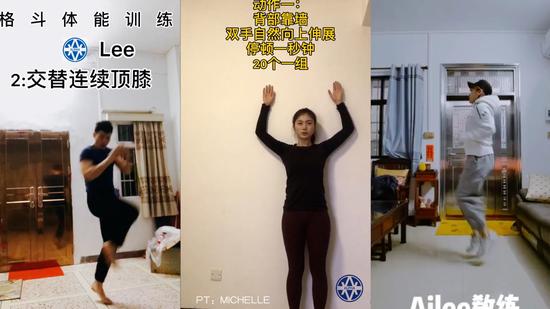 Trainers are taking coaching online. /CGTN Screenshot
Gyms shut down, sporting fixtures suspended, and owners faced with financial losses. China's fitness industry has taken a huge blow from the COVID-19 outbreak, with people now fighting to get back on their feet.
Under the pandemic, the industry bent but didn't break. With the pandemic now largely contained in China, the country's fitness industry is now hitting the reset button, as it seeks to regain its momentum, embrace changes and find the silver lining in the cloud.
With gyms forced to close, home workouts have snowballed in popularity. Since the outbreak, the fitness industry has adapted to life in lockdown by going digital. With livestreaming services and social media, fitness classes from yoga to Pilates are available to stream at home from smartphones, computers and televisions.
The boom in stay-at-home fitness has created huge online traffic for sports apps. PPTV, a sports video website, and fitness app Keep both launched in-home fitness courses designed for different ages.
According to Chai Guohui, founder of a fitness app with nearly 500 trainers, his Chinese Kung Fu trainers were "forced" to offer online sessions, as more users chose to take up the martial art to stay active and in shape during the pandemic.
Blogger Song Fei, who has over half a million followers on China's popular video sharing platform Bilibili, has become a new star after seeing her fandom spiral over the past few months. Her channel on wellness and beauty tips is popular with female fans who wish to keep fit while staying at home.
"Women who aspire to have a healthy figure are my target audience. People are now focusing more on their life quality and I'm quite positive about the perspective of my career," Song said.
Yoga mats, dumbbells, and even accessories for Nintendo's fitness game Ring Fit Adventure are in high demand across China's different e-commerce platforms.
At-home fitness equipment was another popular category that saw a surge in e-commerce sales with livestreaming also playing its part. In February, livestream sales of fitness equipment on Alibaba's main e-commerce site Taobao grew by 213 percent.
A silver lining in the cloud
The pandemic has been of particular concern for graduate students eager to make their first steps in the sports and fitness industry this year. But many analysts point out that there is a silver lining in the cloud, as China focuses on transforming itself into a leading sporting power.
An outline issued by the General Office of the State Council in 2019 revealed that China is highlighting the development of its sports industry, with the aim of it becoming one of the pillars that support the country's economic progress.
Wang Zhenyu, from Shanghai Jiao Tong University, expressed his confidence in the prospects of the industry, noting that sports tourism and fitness services would continue to expand.
As people embrace a higher quality of life, their personal fitness would come into greater focus, which could create a marketplace and new job opportunities for the industry, explained Zhang Fuli, principal of the Dalian University of Science and Technology.
"While industries like health and nutrition counseling emerge with rising health awareness, new careers like sports psychology will also come into our sight," Zhang said.
The industry is also looking for alternative talents to keep up with the trend. According to a fitness industry job-seeking website, gyms and fitness studios across China are looking for video directors and editors as they offer online sessions.
The COVID-19 pandemic has overturned normal commerce, and businesses are working to quickly find ways to offer services in order to brace for the post-lockdown period.
For Chai, as his fitness trainers take their sessions to the internet, they are facing more challenges adapting to the industry's new normal. "You need to be the real deal for the job."
"The pandemic has impacted many jobs and challenged humanity. But as long as people can quickly adjust from traditional ways with new technology, new jobs will be created," said Qu Wenyong from Heilongjiang University.
"As fitness becomes a rigid demand, new jobs should meet clients' needs and create value. If we can do it together, we can make a better industry," said Zhang Fuli.