World's first artificially-bred Yangtze finless porpoise to be released into wild
2020-04-29 Ecns.cn Editor:Mo Hong'e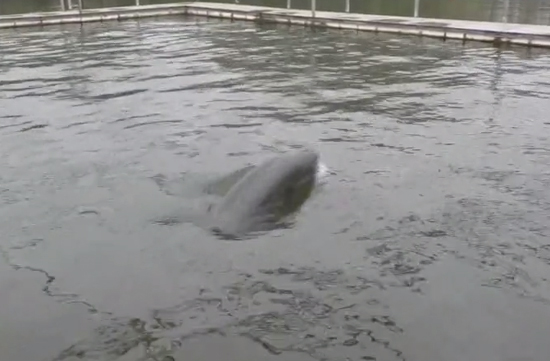 Beibei, the world's first artificially-bred Yangtze finless porpoise, is reared in a pool. (Photo/ Screenshot on CNS TV)
(ECNS) -- The world's first artificially-bred Yangtze finless porpoise is ready to return to the wild at Baiji Dolphin Nature Reserve in Shishou, Hubei Province on Tuesday.
Born in 2016, finless porpoise Beibei has been reared in a purpose-built pool for four years. Training aimed at helping it adapt to the wild is nearly complete.
It will be released into the wild waters of Swan Lake, situated inside the reserve.
The finless porpoise and Baiji Dolphin (Yangtze River dolphin), both members of the cetacea family and the only two mammals in Yangtze River, were listed as "critically endangered" on the red list of threatened species of the International Union for Conservation of Nature in 2013.
Smaller than a Baiji dolphin, the finless porpoise has a dark complexion, and a long curved mouth.