Chinese community in Italian city maintains 'zero COVID-19 infection' record
2020-04-20 Xinhua Editor:Gu Liping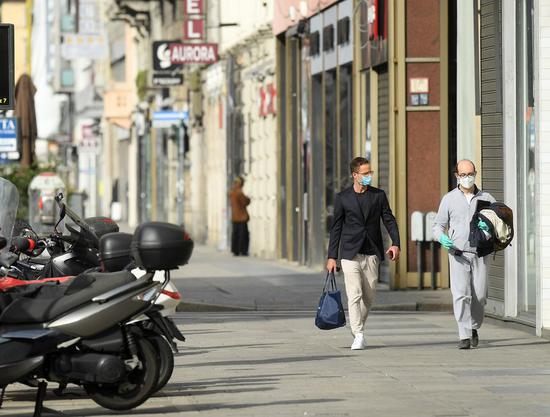 People wearing face masks walk on a street in Milan, Italy, on April 18, 2020. (Xinhua)
Under the severe epidemic situation in Italy, the Chinese community in Prato, the second-largest city in the Tuscany region, has maintained a record of "zero COVID-19 infection."
Xu Qiulin, president of the Prato Overseas Chinese Association, attributed the record to the Chinese people's self-discipline and strong awareness of epidemic prevention.
"We had basically paused our usual life since the first COVID-19 cases were confirmed in Italy. Everyone tried to stay at home as much as possible, in a very conscious way," Xu told Xinhua.
"The overseas Chinese of Prato have set an example for the entire region and made more people realize the importance of pandemic prevention and control," said Matteo Biffoni, mayor of Prato.
As soon as the disease first broke out in Italy, the Chinese in Prato started to wear masks and avoid gatherings, and Chinese shopkeepers put up the shutters.
In addition, the Chinese Consulate General in Florence has kept close contact with Chinese communities to share the knowledge of epidemic prevention and control, and guided them to take effective measures, as well as cooperated with the local governments to help control the epidemic.
Under the guidance of the embassy and consulate, many Chinese groups and individuals in Prato volunteered to spread the information about epidemic prevention and control and establish online communication groups, Xu said.
They also organized patrols in the Chinese community to persuade the public to avoid outings and gatherings, Xu added.
On April 3, a group of Chinese medical experts arrived in Prato to provide guidance on epidemic prevention.
Local Chinese have actively cooperated with the government to implement epidemic prevention and control policies and put overall protection in place, which is key to Prato's success in keeping a far lower infection rate than the national average, said Renzo Berti, head of the disease prevention department in the Tuscany region.
Overseas Chinese have also actively donated materials to help local epidemic prevention effort, winning praise from local governments and people.
"A lot of citizens wrote to me saying that they had received masks from their Chinese neighbors," said Biffoni, adding that "what these Chinese did has impressed local residents and is of great significance to the city's anti-epidemic work."
"We live here and both Italy and China are homes for us. We must lend a helping hand to each other. Everything will be fine as long as everyone is united," Xu told Xinhua.
Prato, whose Chinese population accounts for nearly a quarter of the local population, is the area that is most densely populated with overseas Chinese in Italy.
"The Chinese community in Prato has set an example for us to fight the pandemic and made extraordinary contributions," said the Italian news agency AGI. Enditem