Facts Tell: China's coronavirus test kits have high error rate? The answer is 'no'
2020-03-27 CGTN Editor:Gu Liping
Several labs of large hospitals in Spain have reported high error rates of China-supplied fast test kits for the novel coronavirus, Spanish newspaper El Pais said on Thursday.
The labs said the test kits they purchased, manufactured by Shenzhen Bioeasy Biotechnology of China, only have a sensitivity of 30 percent when it should be above 80 percent.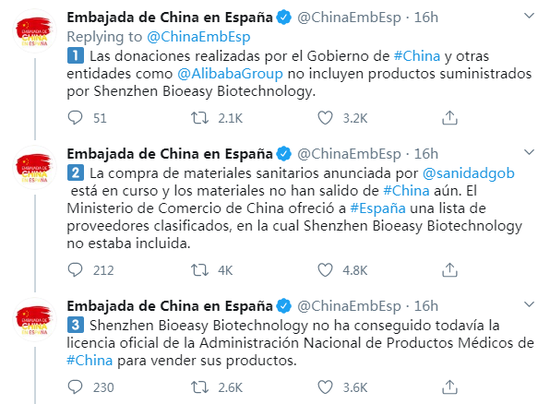 The Chinese Embassy in Spain makes clarification regarding the test kits. /Twitter screenshot
The China Embassy in Spain has made clarifications regarding the source of these test kits.
- Donations made by the Chinese government and other companies such as Alibaba do not include products supplied by Shenzhen Bioeasy Biotechnology.
- The purchase of sanitary materials by Spain's Ministry of Health has not left China yet. The Chinese Ministry of Commerce has offered Spain a list of classified suppliers, in which Shenzhen Bioeasy Biotechnology was not included.
- Shenzhen Bioeasy Biotechnology has not yet obtained the official license from the National Medical Products Administration of China to sell its products.
Regional hygienist of the Czech Republic Pavla Svrcinova claimed via Czech radio recently that up to 80 percent of the rapid coronavirus test kits that the country ordered from China were not working properly.
The claim was soon refuted by Roman Prymula, deputy Minister of Health of Czech Republic.
"Eighty percent error rate is not true," he said in an interview with novinky.cz, adding that there has been a 20 to 30 percent error rate, and the fast test kits have been effective in China.
The fundamental of fast test kits is antibody detection, it cannot detect virus.
"Antibody detection is used to test the antibody level in human blood," Feng Luzhao, researcher of Chinese Center for Disease Control and Prevention, said during a press conference last Friday.
"Patients in early stage of a disease might not have antibody in their blood yet," he said. "Antibody detection can be used as auxiliary diagnosis to patients who are tested negative in nucleic acid test, but it cannot replace nucleic acid test."
Prymula said there is no other way of rapid detection and suggested hospitals use fast test kits when a patient has shown symptoms for five consecutive days.
For nucleic acid testing, the sensitivity of different types of test kits and the operational approach by medical personnel can also cause false positive or negative results in coronavirus testing, according to Yang Zhanqiu, virologist at Wuhan University.