I will fight till the end in Wuhan: health official
2020-03-25 Ecns.cn Editor:Mo Hong'e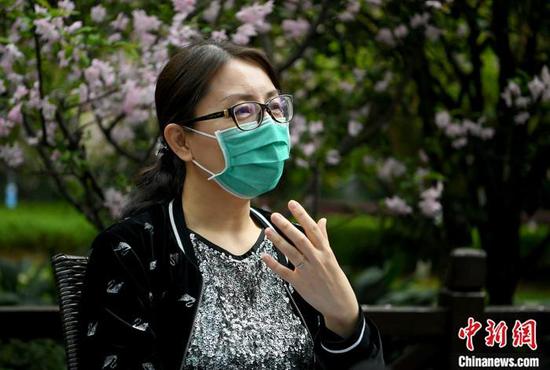 Jiao Yahui, deputy chief of the medical administration bureau of the National Health Commission. (Photo: China News Service/ An Yuan)
(ECNS) -- "Over the past 50 days, unforgettable stories occurred every 24 hours," said a teary Jiao Yahui while recalling the novel coronavirus battle in Wuhan, Hubei Province.
The deputy chief of the medical administration bureau of the National Health Commission arrived in the city on Feb. 5, and immediately set to work.
In the past 50 days, she has witnessed the hard-hit city's gradual recovery.
"I felt weak because of too much walking every day. I felt so weak when I saw patients couldn't stay at hospital because almost all were full," Jiao explained, remembering conditions on her arrival.
The veteran health official had taken part in many prior campaigns, including against SARS, Wenchuan Earthquake and Zhouqu Mudslide. However, "all these experiences were nothing compared to the novel coronavirus outbreak," she admitted.
"All patients taken up in hospital needed oxygen. We didn't have enough ventilators," she said. "We had to give priority to those in ICU."
To address the urgent shortage, medical teams were asked to bring along equipment from their own localities. "Every team offered what it could."
Medical supplies were replenished by Mid February, with the fight back on track.
On February 20, with 319 newly confirmed cases, 553 patients were discharged, a positive sign in the containment drive.
From that day, the devastated city began its recovery, allowing her more daily poise.
"Many medical workers had their hair shaved or cut short for the convenience of work," she said, adding "There is no need to call for heroism. Adequate protective equipment and proper rest are enough."
In charge of assisting medical teams in Hubei Province, Jiao has welcomed over 40,000 medical staff from across the country to Wuhan. Now, she is happy to see them off as the virus has been contained.
On March 17, she said a tearful "Thank you" to the Tianjin medical team at a local airport, wishing them "safety and health."
"I will stick it out here until the end," she said. "When the last patient is discharged from hospital, my mission will be fulfilled."