With the current outbreak, Chinese women are showing their strength in various fields
2020-03-07 CGTN Editor:Gu Liping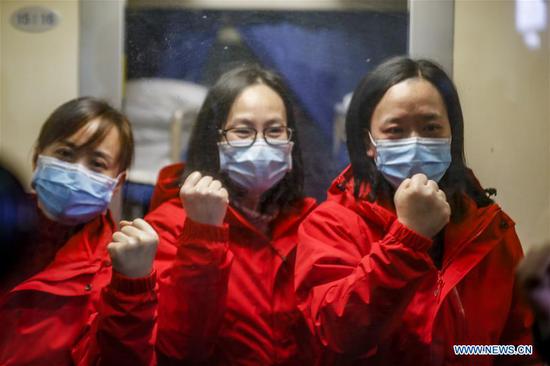 Medical team members cheer up for themselves before leaving for Hubei Province at Chongqing North Railway Station in southwest China's Chongqing on Feb. 28, 2020. (Photo by Huang Wei/Xinhua)
In a critical period of concerted efforts to combat the COVID-19 epidemic, we are about to celebrate the 110th International Women's Day.
In early 2020, during the start of the COVID-19 outbreak, we witnessed some heart-wrenching stories but also heartwarming ones. During this time, courageous women have stepped up in the fight to end the epidemic.
They can be seen everywhere – reporting news from the front line, as doctors and nurses, helping out with cleaning and disinfecting in communities, helping with temperature screening and buying food for residents among other things.
This makes this year's International Women's Day even more eye-catching.
"We may not be able to do big things, but we can do the right things within our power," said Huang Guorong, a volunteer in Chengdu.
In addition to the fighting against the epidemic on the front line, there are many others showing their strength in various fields.
They are volunteers
Guo Xin is a volunteer from Heze City, Shandong Province. She has been working as a volunteer in Wuhan since February 3. She is mainly responsible for helping to count the goods and materials donated to Wuhan, including those from overseas Chinese.
According to Guo, her parents didn't know she was coming to Wuhan. Still, it was a decision she made after considering her own circumstances.
"I wasn't sure if I should come as I didn't know how difficult the situation was. I thought about it and decided to come. I have another sibling. My sister is in college. My parents are healthy. I am economically independent. If you overthink, it becomes more difficult. But If you let it go, it's much easier," Guo said.
It was Guo's first trip to Wuhan. Although the city was largely empty due to the COVID-19 outbreak, Guo Xin managed to find the human spirit through her work. For her, one of the most impressive donations were masks from the Chinese Consulate-General in Osaka, Japan.
Guo said there were almost 40 to 50 small express parcels in the big box. At first, she was a little impatient due to the large number of boxes and complicated information that added to her workload. It did not occur to her that Japan was restricting the purchase of masks, and these donors must have gone to many stores to purchase them and then ship them to Wuhan, recounted Guo, who was unable to hold back her tears.
Behind the media coverage, there are still many unknown female medical workers. Among them, some women entrepreneurs have spared no expense in the production of protective equipment at the fastest speed for the epidemic. There are also women who are active in urban and rural communities and on the streets, unknown to the public. There are also female police, journalists and cadres at the grassroots level on the front line.
'She' should be seen
On March 8, the world celebrates International Woman's Day. The day honors women's achievements as well as reminds the world of the equality women still fight for on a daily basis. It is the date we use to honor each other in support of how far we have come as women.
Women can do the same things that men can in times of crises. But women have different physical needs from men and these need to be taken into account.
On February 14, the China Women's Development Foundation (CWDF), a nation-wide non-profit social welfare organization, launched an emergency donation and directed assistance of 2.25 million yuan to frontline female medical workers to purchase sanitary products for women during their menstrual period. This practice has been well received by female medical staff on the front line.
According to Shanghai Women's Federation, half of the doctors on the front line of the outbreak are women and more than 90 percent of nurses are women. Female medical workers are heroes, but they are also ordinary people. They are soldiers who should not be neglected in the fight against the epidemic. Their immediate needs deserve attention too.
In this war against the epidemic, it's not about "fighting like a man," but tapping on the strengths of each individual with knowledge, experience, perseverance, regardless of gender.