Innovation helps conquer boredom at home
2020-02-14 China Daily Editor:Gu Liping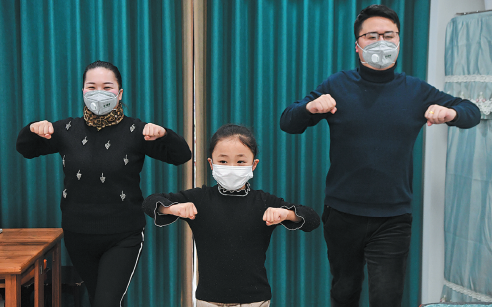 A family in Chongqing exercises at home. WANG QUANCHAO/XINHUA
With plenty of time at home on his hands during the extended Spring Festival break, Leng Yang came up with an innovative idea involving the use of shells from popular Lunar New Year snacks such as pistachios and almonds, along with sunflower seeds.
The 30-year-old designer from Weifang, Shandong province, spent three days making a figure of Mickey Mouse. A video of him putting the artwork together has been viewed more than 100 million times online.
Leng said on the video: "Give shells a new lease on life. Salute to the Year of the Rat," adding that he decided to make the figure in an attempt to beat boredom.
He was unable to meet friends over Spring Festival due to the novel coronavirus pneumonia outbreak, but chose to share his work with millions of netizens on social media platforms such as Sina Weibo and Douyin.
Inspired by his efforts, many kindergarten students have been asked by their teachers to use shells to create such figures.
Leng is not the only one to come up with creative ways to pass the time during the outbreak.
Cheng Dadu, from Xi'an, Shaanxi province, who enjoys running marathons, posted footage on Weibo of himself running barefoot for 10 hours in his living room. Since Jan 30, he has run about 100 kilometers every day indoors.
"Staying at home and keeping healthy are the best ways to fight the virus," he said.
As of Wednesday, the hashtag "Innovative ways to combat boredom at home" had been viewed more than 300 million times on Weibo.
As people have had limited contact with friends and neighbors, the use of cyberspace has surged.
As former Morgan Stanley employee Duncan Clark writes in his book Alibaba: The House That Jack Ma Built, "SARS validated digital mobile telephony and the internet, and so came to represent the turning point when the internet emerged as a truly mass medium in China."
In 2003, when the outbreak of severe acute respiratory syndrome in China had been brought under control, e-commerce platforms Taobao and JD were launched along with Tencent's QQ Game. They all grew to become internet giants.
Industry experts estimate that the ongoing outbreak will result in another internet boom.
On Feb 3, at a news conference on the economic impact of the outbreak, Lian Weiliang, vice-minister of the National Development and Reform Commission, said, "Online entertainment and shopping remain very active."
Wang Jianhui, a media and internet analyst at Cinda Securities, said," During the outbreak, the online entertainment sector-dominated by games and streaming services-has seen a welcome boom."
In addition to the lockdown in Wuhan, Hubei province, the epicenter of the outbreak, the central government has imposed preventive measures in metropolitan areas such as Beijing and Shanghai as well as other populous areas. Public celebrations nationwide have been canceled.
With the government suggesting that people stay at home to avoid further spreading the virus, lifestyles have moved increasingly from offline to online.
In June, the number of netizens in China reached 854 million, accounting for 61.2 percent of the population, according to a report from the China Internet Network Information Center.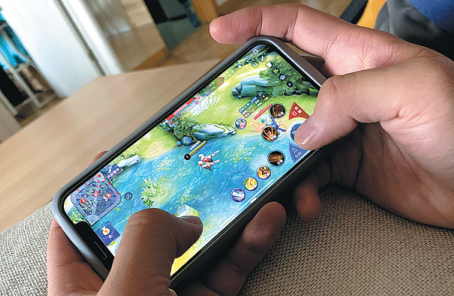 A Beijing resident plays Tencent Games' Honor of Kings at home. DU LIANYI/CHINA DAILY
Online games
Online games and streaming apps have seen millions of views and downloads as demand for home entertainment has soared.
According to Tencent Games, Honor of Kings earned about 2 billion yuan ($288 million)-a record high-on Jan 24, Lunar New Year's Eve. Industry experts estimate that the game made more than 9 billion yuan last month due to the increasing number of participants and longer playing times during the outbreak.
The strategy game Plague Inc., from the United Kingdom, went viral after the outbreak. Since Jan 21, it has been one of China's most downloaded apps, according to mobile data and analytics platform App Annie.
Developed in 2012 by Ndemic Creation, the game demonstrates how a pathogen evolves and infects people.
In 2013, James Vaughan, the game's developer, said it can serve "as a tool to teach the public about outbreaks and disease transmission."
Last month, the game generated 78,000 downloads, up from 16,000 in December, according to market analyst Sensor Tower.
One player commented," I learned a lot from playing the game, including how the virus spreads and the measures that can be taken to better prevent and contain the epidemic."
Amid a surge in players, Ndemic Creations has reminded them that Plague Inc. is not a "scientific model" and that people wanting information on the outbreak should obtain it from health authorities.
"Many students played the game over the extended Spring Festival break," said Li Ding, a college teacher in Shenyang, Liaoning province, adding that she spent more than five hours on the internet each day.
In an attempt to stop large numbers of people gathering, officials have banned outdoor games of mahjong, chess and cards and have used drones for virus patrols. As a result, demand for online games has surged.
According to online data service provider Qimai Technology, since Jan 27, Tencent's Happy Mahjong has remained in top place in the download rankings for chess and card games, followed by Fight the Landlord, a card game also developed by Tencent.
An ad from the company reads: "Less outings, more company. Join us and play mahjong and cards with friends at home."
To attract users, special free online rooms opened for Happy Mahjong and Fight the Landlord from Feb 1 to Feb 9.
Zhao Kun, a Shanghai insurance agent, said: "My screen time recently has exceeded 12 hours a day. There's nothing I can do, but play games, binge-watch and surf the internet."