Chinese doctors wholly devoted in fighting coronavirus outbreak
2020-01-23 CGTN Editor:Gu Liping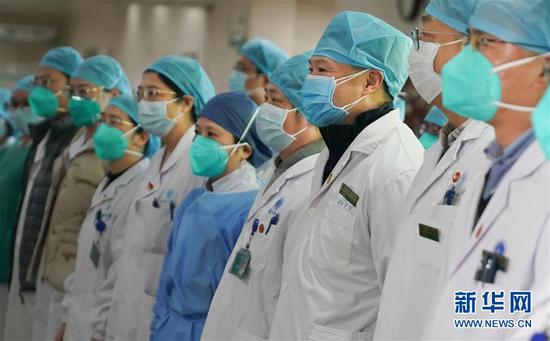 Over 30 medical staff from Wuhan Union Hospital's Internal Medicine Department have volunteered to form a support team to combat pneumonia outbreak caused by novel coronavirus. They will soon be assigned to a local fever clinic. /Xinhua
"This is a battlefield with invisible enemy. But this time it is not the 1918 influenza pandemic when fear led to hospitals being overwhelmed with numerous patients. With far more clinical experience, there is no need to panic," Zhang Zhan, a doctor of respiratory medicine at the Renmin Hospital of Wuhan University wrote in a letter to her superiors.
The doctor, who is at the frontline in fighting the new type of coronavirus-related pneumonia applied to stay at the observation ward to closely monitor infected patients.
Since the outbreak of the novel coronavirus, about 10 pneumonia patients have been discharged with the help of Zhang's team.
In the letter, Zhang noted that she did not tell her husband about her decision and asked not to inform him in case her husband, who also works in the same hospital, gets worried.
With the increasing number of confirmed cases, Zhang is just one of the doctors in China who have decided to sacrifice their Spring Festival holiday to take on this heavy workload that comes with huge pressure.
At Wuhan Union Hospital, doctors from different departments came to help at the fever clinics.
In an exclusive video released by China Media Group inside Jinyintan Hospital, where most of the patients with coronavirus-related pneumonia in Wuhan are being looked after, medical personnel were working in a tense atmosphere in intensive care units (ICU).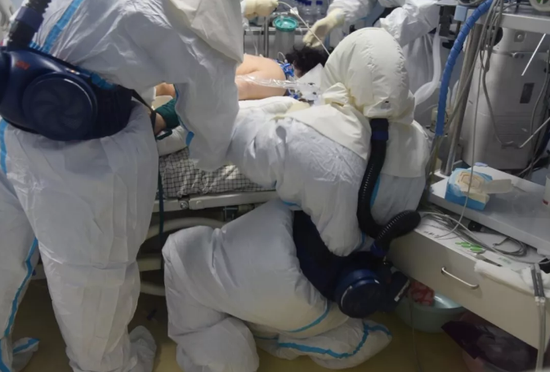 A nurse at Renmin Hospital of Wuhan's Donghu Districtat kneels on the ground to treat the patient in Wuhan, central China's Hubei Province. /Hubei Daily
In ICU wards, doctors and nurses need to wear heavy, three-layer protective suits and take turns every four hours. Working more than eight hours a day, the medical workers are putting their lives at risk all the time.
A few have them infected while some have collapsed due to overwork.
Yuan Haitao, director of the ICU wards of Renmin Hospital in Wuhan's Donghu District, insisted to instruct rescue work via phone after getting sick. "Now that I chose to become a doctor, I can't fall back no matter how serious the situation is," Yuan told the Hubei Daily.
China's National Health Commission has issued guidelines to help medical workers protect themselves and their patients from the virus. On Tuesday, Chinese Premier Li Keqiang called for timely and vigorous efforts in the fight against the new type of coronavirus-related pneumonia, while urging medical workers to ensure self-protection as they are at the frontline.
In an interview by CCTV Mandarin, Zhang Zhan also expressed concerns for her dedicated medical peers. "Lasting fatigue will affect a person's immune system, I hope medics do not force themselves to work overtime if they feel uncomfortable."
"They are not 'angels in white,' they are just a group of young doctors who emulate their seniors to act professional and reliable, fighting for people's lives," head nurse of Central Hospital of Wuhan wrote in her WeChat moments.
"We don't know who you are[with surgical masks], but we are aware of who you are fighting for," wrote People's Daily. On China's twitter-like Weibo, among thousands of comments, netizens showed a lot care for medics' virus prevention and expressed their respect to these unknown heroes.