Wuhan new-type pneumonia patient found in Japan: Already cured
2020-01-17 CGTN Editor:Gu Liping
A pneumonia patient was found infected with coronavirus in Japan and was released from the hospital after treatment, the country's health ministry said Thursday.
The patient, in his 30s, had a fever on January 3 during his travel in Wuhan, China, where the outbreak took place.
He returned to Japan on January 6 and went to hospital on the same day.
He had been hospitalized for five days since January 10 and was released on Wednesday as the symptoms relieved.
According to the ministry, the man didn't go to the seafood market in Wuhan, which is believed to be the source of the outbreak.
But the man may have had close contact with another pneumonia patient during his visit. This implies the possibility of human-to-human transmission.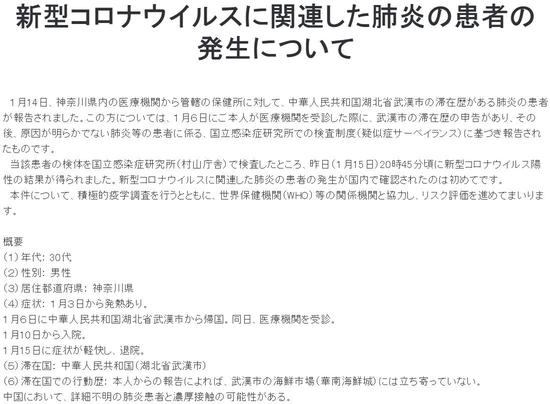 A screenshot of the official announcement from Japan's health ministry.
Current situation
CGTN Digital has learned of two coronavirus cases outside of China. One is the patient in Japan, as mentioned above. The other is a Wuhan resident being treated in Thailand.
There are currently 41 cases found in Wuhan. Seven of them have been cured and released from the hospital. Six are still in critical condition. And one has died, according to a daily report from the Wuhan Municipal Health Commission on Wednesday.
The commission said they have tracked 763 people who had close contact with the patients and no more cases were found.