What's behind spread of Australian bushfires?
2020-01-09 Xinhua Editor:Gu Liping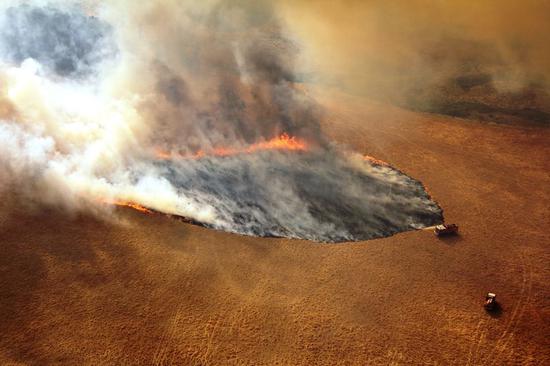 Photo taken on Dec. 20, 2019 shows fire trucks working at Lexton bushfire site in western Victoria, Australia. (Wayne Riggs/CFA/Handout via Xinhua)
The Australian bushfires have engulfed more than 6 million hectares of bush, forest and parks, which is twice the size of Belgium.
At least 25 people were killed, while about half a billion animals were feared dead.
Many cities, including the capital Canberra, were blanketed in heavy smoke, where air quality was ranked as the worst in all major cities in the world.
The vastness of the country as well as its climate including heat and lack of rainfall have surely been a major cause of the spread of the devastating fire.
Australia is made up of large unpopulated areas of wilderness that are extremely difficult to reach.
Once a fire starts in one of these regions, the naturally dry and dense Australian bush can quickly become consumed by flames and spread beyond what fire crews are able to contain.
Contributing to conditions this season was an ongoing drought which left fuel sources such as dead leaves and timber extremely dry and much more likely to burn.
Last year, Australia experienced its driest spring in 120 years of recorded history, according to the country's Bureau of Meteorology (BoM).
There have also been several days of strong winds and high temperatures -- conditions which can quickly spread fires and create very dangerous conditions for those trying to contain them.
However, apart from the wilderness and drought, the policies of the federal government were also criticized for failing to bring the bushfires under control.
At the end of last year when firefighters were busying combating the bushfires, Australian people found their Prime Minister Scott Morrison "disappeared." There was news that he went to Hawaii for holiday.
Angry web users launched an online campaign #WheresScotty. Thousands of protesters camped outside Morrison's Kirribilli House in Sydney where they said they would wait until he returned to "confront the climate crisis."
The prime minister soon returned to the country. During his visit to Cobargo, where a father and a son lost their lives in the bushfire, Morrison was heckled by local residents, who refused to shake hands with him.
Morrison and Defence Minister Linda Reynolds later announced that 3,000 Australian Defence Force (ADF) reservists will be deployed to help with the recovery from catastrophic bushfires in an unprecedented move.
The pair also announced 20 million Australian dollars (13.9 million U.S. dollars) in funding for four additional fire-fighting aircraft and the deployment of Royal Australian Air Force and Navy craft for rescue efforts.
On Monday, the Australian government launched the National Bushfire Recovery Agency which would be funded with an initial 2 billion Australian dollars (1.38 billion U.S. dollars).
But as former Australian prime minister Kevin Rudd said, the government's response has been "evasive, tepid, tone-deaf and, above all, too late."
Meanwhile, the measures taken by the Australian government also made people guess if they have underestimated the scale of the bushfires this year.
As of the beginning of last December, New South Wales (NSW) was scorched by more than 80 blazes, half of which not under control. Former prime minister Malcolm Turnbull called on Morrison to provide hands-on leadership and coordinate a national response to a bushfire emergency.
Morrison said there already was a "nationally coordinated effort" which he did not think could go any higher. But that was obviously not the case.
At the end of last December when the Morrison government agreed to compensate NSW volunteer firefighters, opposition leader Anthony Albanese argued firefighters outside NSW needed extra support as well.
"This has been an issue that was raised with me across the country," he said.
Minister for Police and Corrective Services in Queensland Mark Ryan also accused Morrison of "being a prime minister for New South Wales only."
About Morrison's plan of deploying army reservists to assist, NSW Rural Fire Service commissioner Shane Fitzsimmons said neither he nor defence force personnel working from the state control center were informed beforehand.
Fitzsimmons said he was "disappointed and frustrated" to learn of the plan through media reports.
Some experts also criticized the government for not being well prepared for the bushfires.
Rod Keenan, a professor with the University of Melbourne, said bushfire management comprises three planks: preparation, response and recovery. "The federal government mostly focuses on bushfire response and recovery," he said.
A Guardian report on Sunday said Greg Mullins, former commissioner of NSW Fire and Rescue, and 22 other former emergency services chiefs had sent a letter to the federal government outlining the potential crisis and asking for more specialized equipment to deal with the hotter and longer bushfire periods. "They were ignored," said the report.
"Emergency services have been asking for resources since 2016, when the National Aerial Firefighting Center asked for a 'national large air-tanker fleet' to support firefighting operations but were rebuffed," it said.
This is not the first time that Australia has seen bushfires. In February 2009, the Black Saturday bushfires in Victoria claimed 173 lives. In the capital city Canberra, fires entered the suburbs in 2003, killing four, ruining nearly 500 homes and severely damaging almost 70 percent of the Australian Capital Territory's (ACT) pastures, pine plantations and nature parks.
The 2016 State of the Climate report said that Australia's climate has warmed since national records began in 1910, especially since 1950.
According to the Climate Council in Australia, since the mid-1990s, southeast Australia has experienced a 15-percent decline in the late autumn and early winter rainfall and a 25-percent decline in average rainfall in April and May.
"Climate change is driving an increase in the intensity and frequency of hot days and heatwaves in Australia, in turn increasing the severity of droughts," said one of its reports.
While many believed that climate change led to the prolonged bushfire period in Australia, Morrison said, "Our emissions reductions policies will both protect our environment and seek to reduce the risk and hazard we are seeing today."
Australia has committed to reducing its carbon emissions by 26 to 28 percent from 2005 levels by 2030 under the Paris climate agreement.
Despite several demonstrations across Australia in the past, Morrison has repeatedly ruled out pursuing more ambitious climate change policies than those Australia has already committed to.
"Australia is a highly developed country," said former foreign minister Julie Bishop. "If a country like Australia fails to show leadership, we can hardly blame other nations for not likewise showing leadership in this area." Enditem